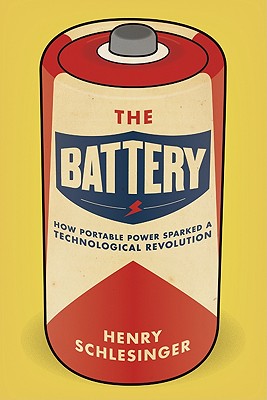 The Battery (Hardcover)
How Portable Power Sparked a Technological Revolution
Smithsonian, 9780061442933, 320pp.
Publication Date: March 1, 2010
* Individual store prices may vary.
or
Not Currently Available for Direct Purchase
Description
In the tradition of Mark Kurlansky's Cod and David Bodanis's E=MC2, The Battery is the first popular history of the technology that harnessed electricity and powered the greatest scientific and technological advances of our time.
What began as a long-running dispute in biology, involving a dead frog's twitching leg, a scalpel, and a metal plate, would become an invention that transformed the history of the world: the battery. From Alessandro Volta's first copper-and-zinc model in 1800 to twenty-first-century technological breakthroughs, science journalist Henry Schlesinger traces the history of this essential power source and demonstrates its impact on our lives.
Volta's first battery not only settled the frog's leg question, it also unleashed a field of scientific research that led to the discovery of new elements and new inventions, from Samuel Morse's telegraph to Alexander Graham Bell's telephone to Thomas Edison's incandescent lightbulb. And recent advances like nanotechnology are poised to create a new generation of paradigm-shifting energy sources.
Schlesinger introduces the charlatans and geniuses, paupers and magnates, attracted to the power of the battery, including Michael Faraday, Guglielmo Marconi, Gaylord Wilshire, and Hugo Gernsback, the publisher and would-be inventor who coined the term "science fiction." A kaleidoscopic tour of an ingenious invention that helped usher in the modern world, The Battery is as entertaining as it is enlightening.
Praise For The Battery: How Portable Power Sparked a Technological Revolution…
Henry Schlesinger's fascinating and supurbly researched history of the battery is the story of civilization as we know it. The Battery illuminates in compellingly rich detail the scientists and entrepreneurs responsible for so much of the technology we take for granted today.
-Michael Belfiore, author of The Department of Mad Scientists: How DARPA Is Shaping Our World, from the Internet to Artificial Limbsre

Just as a cracker-size battery powers a cell phone for days, so does Schlesigner's wit enliven an unlikely topic--The History of the ever-shrinking, ever more potent Battery."
-Richard Zacks, author of "An Underground Education" and best-seller "The Pirate Hunter"
Advertisement