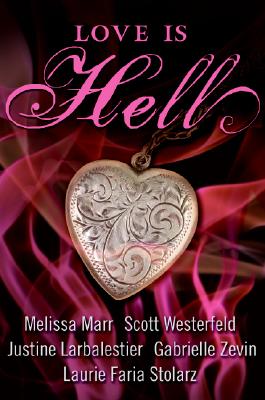 Love Is Hell (Paperback)
HarperTeen, 9780061443046, 272pp.
Publication Date: November 25, 2008
* Individual store prices may vary.
Description
Sure, love is hell. But it,s totally worth it.
In these supernatural stories by five of today's hottest writers—Melissa Marr (Wicked Lovely), Scott Westerfeld (Specials), Justine Larbalestier (Magic or Madness), Gabrielle Zevin (Elsewhere), and Laurie Faria Stolarz (Blue is for Nightmares)—love may be twisted and turned around, but it's more potent than ever on its quest to conquer all.
From two students who let the power of attraction guide them to break the hard-and-fast rules of their world to the girl who falls hard for a good-looking ghost with a score to settle, the clever, quirky characters in this exciting collection will break your heart, then leave you believing in love more than ever.
About the Author
Scott Westerfeld is the author of ten books for young adults, including Peeps, The Last Days, and the Midnighters trilogy. He was born in Texas in 1963, is married to the Hugo-nominated writer Justine Larbalestier, and splits his time between New York and Sydney. His latest book is Extras, the fourth in the bestselling Uglies series.
Melissa Marr is the New York Times bestselling author of the Wicked Lovely series as well as the adult fantasy novels Graveminder and The Arrivals. When not traveling, Melissa can be found in Phoenix or online at www.melissamarrbooks.com.
Justine Larbalestier is the author of Liar, How to Ditch Your Fairy, and the Magic or Madness trilogy, as well as the coeditor with Holly Black of Zombies vs. Unicorns. She and her husband, author Scott Westerfeld, divide their time between Sydney, Australia, and New York City.
Gabrielle Zevin is the author of Elsewhere, Memoirs of a Teenage Amnesiac, and Margarettown. She also writes screenplays.
Laurie Faria Stolarz is the author of the hugely popular young adult novels Blue is for Nightmares, White is for Magic, Silver is for Secrets, and Red is for Remembrance, as well as Bleed and its companion novel Project 17. Her work has been named n several award lists, including ALA Quick Picks for Reluctant Young Adult Readers. She is currently working on a new series, also for young adults.