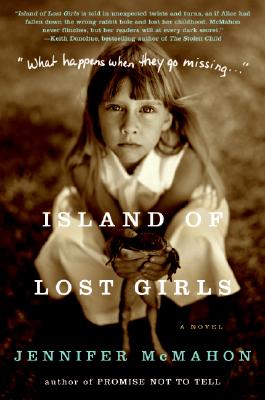 Island of Lost Girls
A Novel
Paperback

* Individual store prices may vary.
Description
From the author of the acclaimed Promise Not to Tell comes a chilling and perfectly plotted tale in which crimes of the past and present blend in a mesmerizing tale of mystery, shattered innocence, guilt, and redemption
On her a way to a job interview, Rhonda never expected to get caught in the middle of a crime. Sitting in her blue Honda at a gas station, she saw a person dressed as a rabbit grab a young girl out of nearby car. Confused by the absurdity of the rabbit costume, Rhonda does nothing at first. By the time she regains her senses, however, the kidnapper and child are gone.
Plagued by guilt, she's determined to help with the investigation. But as she gets closer to discovering the kidnapper's identity, she also gets closer to uncovering the truth behind the disappearance of another child—her best friend Lizzy who went missing years before. As Rhonda races to solve the two overlapping mysteries, she rekindles an old romances, learns that people from her past a far different than what they seemed, and ultimately finds liberation.
Filled with compelling, realistic characters, twisting supense, and creepy turns that will have readers flying through the pages, Island of Lost Girls is a remarkable display of narrative genius from a stellar new talent.
Praise For Island of Lost Girls: A Novel…
"Island of Lost Girls is an unsettling account of the secret lives of children, told in unexpected twists and turns, as if Alice had fallen down the wrong rabbit hole and lost her childhood. McMahon never flinches, but her readers will at every dark secret." — Keith Donohue, bestselling author of THE STOLEN CHILD
"Haunting . . . McMahon expertly shifts between pivotal events in the past and present-day action, building tension to a resolution both poignant and shattering." — Publishers Weekly
"As in her assured debut novel, PROMISE NOT TO TELL, McMahon offers a moving if bittersweet portrait of childhood . . . readers will be hooked on both the mystery element and the coming-of-age aspects of this atmospheric novel." — Booklist
"Well-crafted." — Kirkus Reviews
"[McMahon's] smart mystery-thriller grabs you by the throat and won't let go....making this a page-turner you'll neglect sleep for." (3 ½ Stars) — People
William Morrow Paperbacks, 9780061445880, 272pp.
Publication Date: April 22, 2008
About the Author
Jennifer McMahon is the author of Dismantled, the New York Times bestseller Island of Lost Girls, and the breakout debut novel Promise Not to Tell. She lives in Vermont with her partner, Drea, and their daughter, Zella.
When the rabbit kidnaps Ernie, Rhonda finds herself unable to act because she's so completely caught off guard by what she sees. Have you ever been so surprised (or overcome with any emotion) you were paralyzed?
Island of Lost Girls moves back and forth through time, essentially following two interweaving storylines. Do you think this was an effective structure? How did it affect your reading of the book?
Rhonda has two love interests: Peter and Warren. How are they different? In what ways are they similar? And how does the Peter of Rhonda's youth compare to the man he is as an adult?
What are your observations about the different roles that fantasy, imagination, and make-believe play in the lives of both the children and adults? Do any of the characters really live in the here and now? Are these forms of escapism helpful or harmful?
Justine seems passive and removed, but later, Rhonda comes to believe that Justine didn't just see what was going on, but may have had a hand in hiding evidence to protect the children. Do you see her as weak or strong? A victim or a protector?
Daniel and Clem had been friends since boyhood. How did this affect Clem's vision of Daniel? Did it give him blind spots? And how does Rhonda's childhood friendship with Peter influence her judgment about his possible involvement in Ernie's kidnapping?
Ella Starkee says, "Sometimes, what a person needs most is to be forgiven." What did you think of how themes of forgiveness are played out in Island of Lost Girls? Are there unforgivable acts?
Some of the townspeople blame Trudy Florucci for Ernie's abduction, for being a "bad mother." Trudy blames Rhonda, and Rhonda blames herself. Ultimately, is there any one person at fault for what happens to Ernie? Why do you think people are so eager to find someone to take the blame?