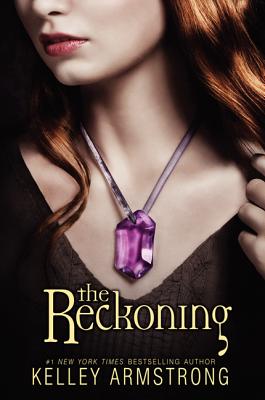 The Reckoning (Darkest Powers #3) (Paperback)
HarperCollins, 9780061450563, 416pp.
Publication Date: April 12, 2011
Other Editions of This Title:
Digital Audiobook (4/5/2010)
Hardcover (4/6/2010)
Paperback (3/1/2011)
* Individual store prices may vary.
Description
The gripping finale to the New York Times bestselling Darkest Powers trilogy!
In the end, there's always a reckoning.
Chloe Saunders's life is not what you would call normal. First of all, she can't figure out how she feels about a certain antisocial werewolf or his charming brother—who just happens to be a sorcerer. Then there's the fact that she's running for her life from an evil corporation that's trying to kill her and her supernatural friends. And finally, she's a genetically altered necromancer who can raise the dead, rotting corpses and all, without even trying.
Not normal.
But Chloe has a plan. And the end is very near.
About the Author
When librarians finally granted Kelley Armstrong an adult card, she made straight for the epic fantasy and horror shelves. She spent the rest of her childhood and teen years happily roaming fantastical and terrible worlds, and vowed that someday she'd write a story combining swords, sorcery, and the ravenous undead. That story began with the New York Times bestselling Sea of Shadows and continues with Empire of Night.
Armstrong's first works for teens were the New York Times bestselling Darkest Powers and Darkness Rising trilogies. She lives in rural Ontario with her husband, three children, and far too many pets.
Praise For The Reckoning (Darkest Powers #3)…
For THE SUMMONING: "Terrifying ghosts, smatterings of gore and diverse teen voices will prompt young adults to pick up the next in this series."
— Kirkus Reviews (starred review)

For THE SUMMONING"Suspenseful, well-written and engaging."
— Voice of Youth Advocates (VOYA)

For THE SUMMONING: "Action, danger, supernatural secrets, and a hint of romance--Armstrong's world is one in which trusting the wrong person can have dire consequences. You'll be desperate for a sequel."
— Melissa Marr

For THE AWAKENING: "Armstrong's vermiculate plot will exhilarate even readers new to the series...Teens grappling with their own transformations and alienating individuality will certainly follow these characters to the book's final pages and into the next volume."
— Kirkus Reviews (starred review)

For THE AWAKENING: "Chloe and her fellow supernatural teens struggle to find someone who will help them combat the group that's trying to take them hostage, and there's never a slow moment in their journey or a false line in Armstrong's writing."
— Charlaine Harris

For THE AWAKENING: "Kelley Armstrong has created a gritty, realistic world both teen and adult readers will enjoy. Edge-of-the-seat reading, with plenty of surprises. I want the next installment now!"
— Kim Harrison

"This nail-biting climax to the series continues to captivate readers with its edge-of-one's-seat pacing. Armstrong's story is full of action, romance, deception, and intrigue as well as complex characters and serious teenage issues. A satisfying addition for fans of the supernatural."
— School Library Journal