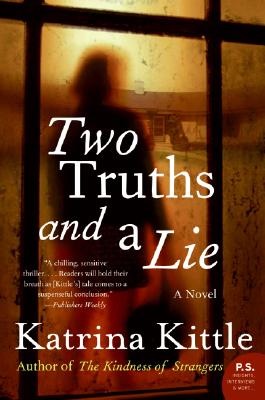 Two Truths and a Lie (Paperback)
A Novel
Harper Perennial, 9780061451393, 384pp.
Publication Date: June 3, 2008
Other Editions of This Title:
Paperback (6/1/2002)
* Individual store prices may vary.
Description
Dair Canard has long been a master at weaving stories out of thin air. A natural actress, she leads a life that's a minefield of untruths she can never admit to anyone—especially not to Peyton, her husband of eight years. But the bizarre death of her best friend and fellow actor—initially thought a suicide, then believed to be murder—is forcing Dair to confront the big lie that led Peyton to fall in love with her in the first place. Haunted by the terrible events that are suddenly ripping her life wide open, Dair is struggling to find answers—taking steps that could well lead to the destruction of her marriage, her career, and even her freedom.
But everyone around her has secrets and something to hide. Dair's determination to unravel the decade-old web of her own tightly woven deceptions is awakening inner demons she has fought hard to control . . . and revealing that she's closer to a killer than she ever imagined.
About the Author
Katrina Kittle is the author of Traveling Light, Two Truths and a Lie, and The Kindness of Strangers, which received the Great Lakes Book Award for Fiction. She lives in Dayton, Ohio.