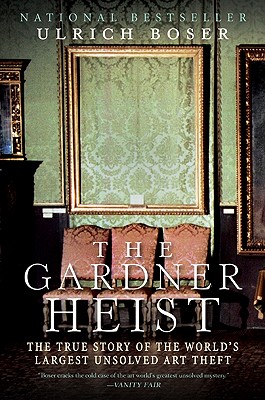 The Gardner Heist
The True Story of the World's Largest Unsolved Art Theft
Paperback

* Individual store prices may vary.
Other Editions of This Title:
Digital Audiobook (8/20/2018)
MP3 CD (8/21/2018)
Compact Disc (8/21/2018)
Description
"Boser cracks the cold case of the art world's greatest unsolved mystery."— Vanity Fair
One museum, two thieves, and the Boston underworld: the riveting story of the 1990 Gardner Museum robbery, the largest unsolved art theft in history. Perfect for fans of the Netflix series This is a Robbery: The World's Biggest Art Heist!
Shortly after midnight on March 18, 1990, two men broke into the Isabella Stewart Gardner Museum in Boston and committed the largest art heist in history. They stole a dozen masterpieces, including one Vermeer, three Rembrandts, and five Degas. But after thousands of leads, hundreds of interviews, and a $5 million reward, not a single painting has been recovered. Worth as much as $500 million, the missing masterpieces have become the Holy Grail of the art world and their theft one of the nation's most extraordinary unsolved mysteries.
Art detective Harold Smith worked the theft for years, and after his death, reporter Ulrich Boser decided to pick up where he left off. Traveling deep into the art underworld, Boser explores Smith's unfinished leads and comes across a remarkable cast of characters, including a brilliant rock 'n' roll art thief and a golden-boy gangster who professes his innocence in rhyming verse. A tale of art and greed, of obsession and loss, The Gardner Heist is as compelling as the stolen masterpieces themselves.
Praise For The Gardner Heist: The True Story of the World's Largest Unsolved Art Theft…
"Boser has produced a captivating portrait of the world's biggest unsolved art theft." — Wall Street Journal
"A vivid portrait of the high-stakes world of art crime." — Lisa Ko, author of The Leavers
"Ulrich Boser presents his solution to the [Gardner] mystery." — Washington Post
"Boser's book on it has the feel of a speedy ride down a mountain road spiked with hairpin turns." — Christian Science Monitor
"Boser has done a public service in exposing the real world of art theft: It isn't about glamour and culture - it's about greed, violence and irreparable, maddening loss." — USA Today
"Boser cracks the cold case of the art world's greatest unsolved mystery." — Vanity Fair
"Boser offers a tantalizing whodunit as he embarks on an exhaustive search for the stolen masterpieces." — Boston Globe
"This riveting, wonderfully vivid account takes you into the underworld of obsessed art detectives, con men, and thieves, tantalizing leads and dead ends." — Jonathan Harr, author of The Lost Painting
"A fascinating, well-researched investigation…[a] police-eye-view of an unsolved crime-the solution for which may be just around the corner." — Noah Charney, director of the Association for Research into Crimes Against Art, and author of The Art Thief
"Boser's carefully researched and brilliantly written of the 20th century's greatest art heist is too stunningly fascinating to miss." — Phyllis Karas, author of Brutal: The Untold Story of My Life Inside Whitey Bulger's Irish Mob
"The book is a thrill." — The Guardian
"Now we read this. It looks like the largest theft since the Devil Rays took what should have been the Red Sox's 2008 American League championship. I don't know if those paintings ended up on eBay, but I do know they're not on my walls." — Senator John Kerry
"Boser's rousing account of his years spent collecting clues large and small is entertaining enough to make readers almost forget that, after 18 years, the paintings have still not been found." — Publishers Weekly
"Boser poetically contrasts the burning, almost unnatural desire art lovers feel for paintings with the cold reality that art theft is one of the easiest and most lucrative types of crime." — Kirkus Reviews
"Artfully done... Grade: A Minus." — Boston Herald
Harper Paperbacks, 9780061451843, 272pp.
Publication Date: March 16, 2010
About the Author
Ulrich Boser has written for the New York Times, the Washington Post, Smithsonian magazine, Slate, and many other publications. He has served as a contributing editor at U.S. News and World Report and is the founding editor of The Open Case, a crime magazine and web community. He lives in Washington, D.C.