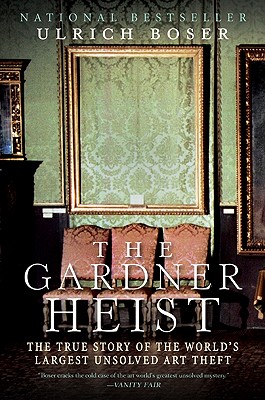 The Gardner Heist (Paperback)
The True Story of the World's Largest Unsolved Art Theft
Harper Paperbacks, 9780061451843, 272pp.
Publication Date: March 16, 2010
* Individual store prices may vary.
Description
Shortly after midnight on March 18, 1990, two men broke into the Isabella Stewart Gardner Museum in Boston and committed the largest art heist in history. They stole a dozen masterpieces, including one Vermeer, three Rembrandts, and five Degas. But after thousands of leads—and a $5 million reward—none of the paintings have been recovered. Worth as much as $500 million, the missing masterpieces have become one of the nation's most extraordinary unsolved mysteries.
After the death of famed art detective Harold Smith, reporter Ulrich Boser decided to take up the case. Exploring Smith's unfinished leads, Boser travels deep into the art underworld and comes across a remarkable cast of characters, including a brilliant rock 'n' roll thief, a gangster who professes his innocence in rhyming verse, and the enigmatic late Boston heiress Isabella Stewart Gardner herself. Boser becomes increasingly obsessed with the case and eventually uncovers startling new evidence about the identities of the thieves. A tale of art and greed, of obsession and loss, The Gardner Heist is as compelling as the stolen masterpieces themselves.
Praise For The Gardner Heist: The True Story of the World's Largest Unsolved Art Theft…
"Boser has produced a captivating portrait of the world's biggest unsolved art theft."

"A vivid portrait of the high-stakes world of art crime."

"Ulrich Boser presents his solution to the [Gardner] mystery."

"Boser cracks the cold case of the art world's greatest unsolved mystery."

"In The Gardner Heist, author Ulrich Boser offers a tantalizing whodunit as he embarks on an exhaustive search for the stolen masterpieces."

"The book is a thrill."

"Now we read this. It looks like the largest theft since the Devil Rays took what should have been the Red Sox's 2008 American League championship. I don't know if those paintings ended up on eBay, but I do know they're not on my walls."

"Boser's rousing account of his years spent collecting clues large and small is entertaining enough to make readers almost forget that, after 18 years, the paintings have still not been found."

"Boser poetically contrasts the burning, almost unnatural desire art lovers feel for paintings with the cold reality that art theft is one of the easiest and most lucrative types of crime."

"Artfully done... Grade: A Minus."

"Boser's book on it has the feel of a speedy ride down a mountain road spiked with hairpin turns.