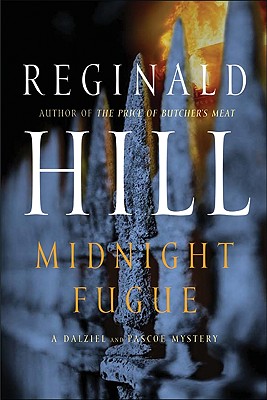 Midnight Fugue
A Dalziel and Pascoe Mystery
Hardcover

* Individual store prices may vary.
Other Editions of This Title:
Paperback (3/30/2021)
Hardcover (5/1/2009)
Mass Market (10/26/2010)
Description
Reginald Hill, award-winning author of The Price of Butcher's Meat and Death Comes for the Fat Man, returns with Midnight Fugue, a riveting new crime novel featuring Yorkshire coppers Dalziel and Pascoe as they tackle the case of a detective who went missing seven years ago under suspicious circumstances. Taking place within the space of a single October Sunday and alternating between Mid-Yorkshire and London, Midnight Fugue is a riveting, complex mystery that builds to a dramatic, twisting conclusion.
Praise For Midnight Fugue: A Dalziel and Pascoe Mystery…
"The short time frame of British author Hill's strong 24th Dalziel and Pascoe procedural maximizes suspense without sacrificing either characterization or humor. . . . Numerous subplots don't slow the pace, a testament to Hill's skill in putting all the pieces together."
— Publishers Weekly (starred review)

"A must for series fans."
— Booklist

"Hill keeps a particularly nasty surprise up his sleeve for last. The accelerated timetable gives Dalziel and Pascoe's 24th a Rube Goldberg effervescence that contrasts effectively with the pervasive sadness beneath."
— Kirkus Reviews

"This seemingly simple case turns into a major puzzler... Hill writes of these tricky matters in a fluid and witty style that eventually lifts the old lion from his torpor and restores him to roaring health."
— New York Times Book Review

"The sleights of hand that Hill manages to pull off are stunning, not to mention the sly, wry style of a rogue with a dry wit and a sharp eye. We see all the players at the beginning. We see the murder take place, but exactly who's who and why they are doing what they seem to be doing is deftly hidden from view until the last tumultuous violent pages. . . . It's a tour de force that Hill manages to pull off with ease."
— Providence Journal

"Hill's achievement here should be savoured. I've read some of his works more than a dozen times. This one is going onto my permanent shelf and I've already consumed it twice. Save it for a time when you can read it straight through, taking time to read each passage and follow each variation and, above all, don't push to the end. It's a tiny perfect thrill of perfection. This is one of Hill's best novels, one of the best this year or any year."
— Globe and Mail (Toronto)

"Wit and wisdom collide in the outsize person of Supt. Andy Dalziel, long time head of the Yorkshire constabulary and newly back at work after the bombing that nearly killed him in Death Comes for the Fat Man... Hill juggles multiple intertwined subplots and characters, inflicting plenty of murder and mayhem on the populace before Dalziel wraps it all up in one 24-hour day. As clever and twisty as ever, this is another winner from an old master."
— Portsmouth Herald

"This complicated mystery with great characters and a fast pace will attract Hill's loyal following and fans of British police procedurals. Hill is a very talented wordsmith as well, and his works should appeal to those seeking out well-written, carefully crafted crime novels."
— Library Journal

"[Hill] does it again in his new Dalziel and Pascoe book, Midnight Fugue, succeeding in brilliant fashion... His writing is assured and relaxed. His touch is deft, and he even allows Fat Andy to show a caring and sentimental side, something surprising in the great old copper's senior years."
— Toronto Star

"One of the best of the Brits, Reginald Hill, adds another winner to his résumé and another chapter to the saga of Dalziel and Pascoe—with Midnight Fugue."
— San Diego Union-Tribune

"[The] most amusing and satisfying of all the Dalziel and Pascoe books. . . . A master of the British police procedural."
— Tampa Tribune
Harper, 9780061451966, 368pp.
Publication Date: October 6, 2009
About the Author
Reginald Hill, acclaimed English crime writer, was a native of Cumbria and a former resident of Yorkshire, the setting for his novels featuring Superintendent Andy Dalziel and DCI Peter Pascoe. Their appearances won Hill numerous awards, including a CWA Golden Dagger and the Cartier Diamond Dagger Lifetime Achievement Award. The Dalziel and Pascoe stories were also adapted into a hugely popular BBC TV series. Hill died in 2012.
or
Not Currently Available for Direct Purchase