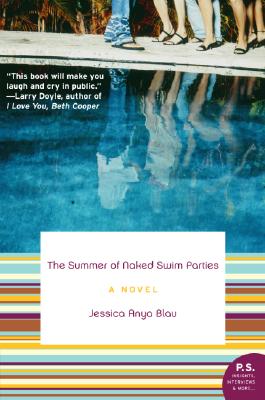 The Summer of Naked Swim Parties (Paperback)
Harper Perennial, 9780061452024, 290pp.
Publication Date: May 27, 2008
Description
Fourteen-year-old Jamie will never forget the summer of 1976. It's the summer when she has her first boyfriend, cute surfer Flip Jenkins; it's the summer when her two best friends get serious about sex, cigarettes, and tanning; it's the summer when her parents throw, yes, naked swim parties, leaving Jamie flushed with embarrassment. And it's the summer that forever changes the way Jamie sees the things that matter: family, friendship, love, and herself.
Praise For The Summer of Naked Swim Parties…
"Sadly, not a photo essay, but rather a witty account of the agonies and ecstasies of a girl coming of age in late-seventies California."
-New York magazine

"High and low comedy, nude swimming, and familial frenzy float through [THE SUMMER OF NAKED SWIM PARTIES] like pot smoke."
-Boston Globe

"Reading this heartfelt and humorous coming-of-age story is the perfect way to spend a hot summer day."
-Cosmopolitan

"A fantastic beach read about painful adolescence in the 1970s."
-Oklahoma City Oklahoman

"Move over, summer of love. Here comes the summer of naked swim parties . . . [Blau] knows adolescence inside out . . . [S]he skewers what needs skewering and celebrates the rest with humor, style, and an appropriate degree of affection."
-Booklist

"Jessica Anya Blau's debut novel, THE SUMMER OF NAKED SWIM PARTIES, is a delight: a California beach girl's hilariously painful adolescence in the High 1970s."
-John Barth

"You may think you've heard this story before, but no one tells it as wittily, winningly, wisely and well as Jessica Anya Blau."
-Madison Smartt Bell

"This book will make you laugh and cry in public. Jessica Anya Blau has written a soaring teenage lament, perfectly pitched, containing the single saddest and funniest line of seduction ever uttered."
-Larry Doyle, author of I Love You, Beth Cooper

"Funny and charming, moving and sweet—Jessica Anya Blau beautifully captures the awkwardness and the wonder of coming of age. The Summer of Naked Swim Parties is a remarkable debut novel."
-Michael Kimball, author of Dear Everybody

"Once you dive in to this sweet, sparkling coming of age story, dripping with heart and heartbreak, you won't want to come up -- even for air."
-Hillary Carlip, author of Queen of the Oddballs: And Other True Stories from a Life Unaccording to Plan

"Among the many truths in this intelligent, funny novel about family, sex, and coming of age in the 1970s is this: no one can embarrass us more than our parents."
-Geoffrey Becker, author of author of Dangerous Men and Bluestown

"Having grown up in 1970s Southern California, I can personally attest to this novel's utterly uncanny evocation of the era. It's also really really fucking funny…"
-Jonathan Selwood, author of The Pinball Theory of Apocalypse

"Jessica Anya Blau is a warm and funny storyteller. THE SUMMER OF NAKED SWIM PARTIES conjures the thrills and anxieties of a 1970s California adolescence in a world awash in sex."
-Gabriel Brownstein, author of The Man from Beyond

"Ms. Blau is a writer of wit, intelligence, deep feeling, humor and imagination, and she gets into the head of a young person like almost nobody since J.D. Salinger. All aboard!"
-Stephen Dixon

"Jessica Anya Blau creates a charming protagonist, her charismatic Santa Barbara family and a summer of love, lust and confusion. You won't want summer - and this wonderful book - to end."
-Ellen Sussman, author of Dirty Words: A Literary Encyclopedia of Sex; Bad Girls: 26 Writers Misbehave; and On a Night Like This

"It's hard to recall a debut as warm, charming and comically satisfying as THE SUMMER OF NAKED SWIM PARTIES . . . Blau conveys Jamie's world with compelling insight and wit . . . [Blau's] sharp observation and affectionate humor [give] surprising depth to this shimmering novel."
-San Francisco Chronicle

"Recovered Judy Blume addicts, brace yourselves for a relapse: Jessica Anya Blau's debut novel, set in Santa Barbara, California, during the summer of '76, is a poignant, gleeful ode to the turbulence of growing up . . . [A] dead-on portrayal of the simple yet shocking revelations of youth."
-Time Out New York
Advertisement