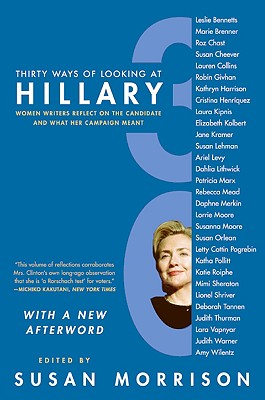 Thirty Ways of Looking at Hillary: Women Writers Reflect on the Candidate and What Her Campaign Meant (Paperback)
Women Writers Reflect on the Candidate and What Her Campaign Meant
Harper Perennial, 9780061455940, 260pp.
Publication Date: December 23, 2008
Description
No one else in the political arena inspires as wide a range of passionate feelings as Hillary Rodham Clinton. Cold or competent, overachiever or pioneer, too radical or too moderate, she continues to overturn the assumptions we make about her. In Thirty Ways of Looking at Hillary, New Yorker editor Susan Morrison has compiled a timely collection of original pieces by America's most notable women writers. The result is a dazzling and revealing pointillist portrait of this complex and controversial politician.
Praise For Thirty Ways of Looking at Hillary: Women Writers Reflect on the Candidate and What Her Campaign Meant…
"Immensely satisfying and very entertaining."
-Tina Brown, author of The Diana Chronicles

"A cascade of crackling insights about gender, marriage, work, and politics that yields genuine literary pleasure."
-Hendrik Hertzberg, author of Politics: Observations and Arguments

"Intriguing…. These essays attest to the infinite subjectivity of people's views, the pure relativism of perception….This volume of reflections corroborates Mrs. Clinton's own long-ago observation that she is 'a Rorschach test' for voters."
-Michiko Kakutani, New York Times

"Pithy, imaginative, and bold essays by exceptionally shrewd women writers....In all, a discerning, engrossing dissection not only of a galvanizing figure but also of our conflicted feelings about women and power."
-Booklist

"An unusually insightful and particularly well written collection."
-New York Daily News

"The collection gathers strength as the variety and ferocity of opinions, insights, disappointments, and projections unfolds, often revealing more about the writers than about Hillary, and more about our warring notions of power, politics, and sex roles than it seems possible to hold in any brain at one time."
-Elizabeth Benedict, Huffington Post

"This original collection features a stellar group of women writers."
-Newsday

"A timely book of essays (or critiques, it often seems) written by many of today's prominent women writers....the book is decidedly fluid....the contributors share a certain elegance in tone....the collection is a unique study and more insightful, if critical, than a general biography."
-Forbes.com

"Clever, entertaining, provocative, and elegantly written."
-Newsweek

"Thirty Ways does provide grist for thought....canny and thoughtful."
-New York Observer

"An exhilaratingly honest collection of essays by many of the top writes of our time."
-More Magazine

"Compelling....this book deserves your vote."
-Bust Magazine

"[A] chewy must-read."
-Rush & Molloy, New York Daily News

"These essays should be required reading for voters."
-Chicago Sun-Times

"Impressive....reflective."
-New York Times Book Review

"Well-written...thoughtful."
-Miami Herald

"Everyone has an opinion about Senator Hillary Clinton....In Thirty Ways, notable contributors sound off about her...these witty, insightful voices struggle to get a grasp on this larger-than-life figure."
-Redbook Magazine

"This timely collection of 30 original pieces by some of America's most notable writers is a must read for anyone interested in this complex and controversial politician."
-The Standard (Ontario)

"As these witty, insightful voices struggle to get a grasp on this larger-than-life figure, they expose how difficult a task that really is."
-Redbook Magazine
Advertisement