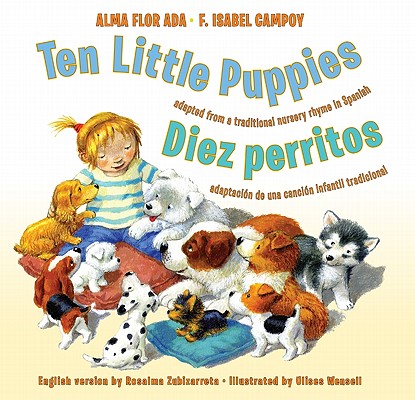 Ten Little Puppies/Diez Perritos (Hardcover)
Rayo, 9780061470431, 32pp.
Publication Date: March 8, 2011
Description
Oh, I had ten little puppies,
Ten little puppies had I . . .
Count along in Spanish and English as each one of the ten adorable puppies disappears from the pages--it's a bilingual bonanza Colorful and playful illustrations by artist Ulises Wensell, a vibrant rendition of the classic Spanish nursery rhyme by Alma Flor Ada and F. Isabel Campoy, and a delightful English adaptation by Rosalma Zubizarreta will make this edition an instant family favorite. And you can find more information at the back of the book about the puppy breeds featured. Puppies have never been so irresistible
Yo tenia diez perritos,
diez perritos tenia yo . . .
Ahora puedes contar, en ingles o en espanol, cada uno de los diez adorables perritos mientras van desapareciendo de las paginas. Una verdadera joya bilingue Las originales y divertidas ilustraciones del artista Ulises Wensell, la vibrante version de la rima clasica de Alma Flor Ada y F. Isabel Campoy, y una excelente adaptacion en ingles de Rosalma Zubizarreta haran que este libro sea indispensable en todos los hogares. Puedes encontrar mas informacion acerca de las razas de los cachorros en la parte posterior del libro. Nunca has visto perritos mas irresistibles
Praise For Ten Little Puppies/Diez Perritos…
"Large, appealing illustrations will make this a favorite for storytime presentations; an excellent source in helping children to develop prereading skills, and a fun way to introduce them to early math concepts such as addition and subtraction."
-School Library Journal
Advertisement