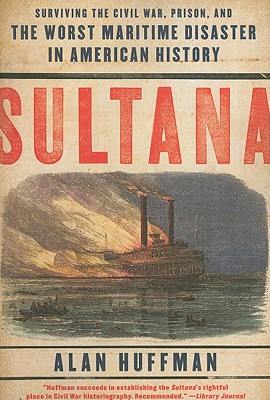 Sultana: Surviving the Civil War, Prison, and the Worst Maritime Disaster in American History (Paperback)
Surviving the Civil War, Prison, and the Worst Maritime Disaster in American History
Harper Paperbacks, 9780061470561, 300pp.
Publication Date: April 6, 2010
Description
In April 1865, the steamboat Sultana slowly moved up the Mississippi River, its overtaxed engines straining under the weight of twenty-four hundred passengers--mostly Union soldiers, recently paroled from Confederate prison camps. At 2 a.m., three of Sultana's four boilers exploded. Within twenty minutes, the boat went down in flames, and an estimated seventeen hundred lives were lost.
The worst maritime disaster in American history, the sinking of the Sultana is a forgotten tragedy lost in the turmoil of the times--the war's end, the assassination of President Lincoln, the pursuit of John Wilkes Booth. Alan Huffman presents this harrowing story in gripping and vivid detail and paints a moving portrait of four individual soldiers who survived the Civil War's final hell to make it back home.
Praise For Sultana: Surviving the Civil War, Prison, and the Worst Maritime Disaster in American History…
"Huffman succeeds in establishing the Sultana's rightful place in Civil War historiography. Recommended."
-Library Journal

Huffman rescues the Sultana tragedy from obscurity and brings the people and events surrounding it to vibrant life...[and] chronicles the explosion and its aftermath in startling detail with a wealth of striking images...A short but moving history that effectively captures both the disaster and the soldiers' ordeal.
-Kirkus Reviews
Advertisement