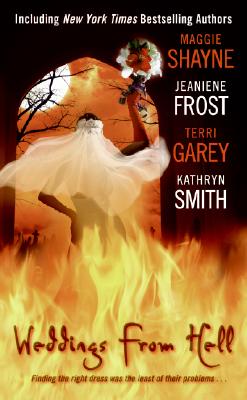 Weddings From Hell (Paperback)
Harper, 9780061472688, 384pp.
Publication Date: May 27, 2008
* Individual store prices may vary.
Description
Some marriages are made in heaven . . . Some are not.
What happens when "the happiest day of your life" turns into a nightmare? Forget the drunken best man or the bridesmaid dresses from the '80s . . . none of these wedding day disasters can compare to a cursed bride determined to make it down the aisle, or a vampire who is about to disrupt your wedding.
Join New York Times bestselling authors Maggie Shayne and Jeaniene Frost, USA Today bestseller Kathryn Smith, as well as Terri Garey in four unforgettable tales of unholy matrimony . . . where the grooms are dark, dangerous, and mostly dead, and to love and cherish till death takes on a whole new meaning.
About the Author
Jeaniene Frost is the New York Times, USA Today, and international bestselling author of the Night Huntress series and the Night Huntress World novels. To date, foreign rights for her novels have sold to nineteen different countries. Jeaniene lives in North Carolina with her husband Matthew, who long ago accepted that she rarely cooks and always sleeps in on the weekends. Aside from writing, Jeaniene enjoys reading, poetry, watching movies with her husband, exploring old cemeteries, spelunking and traveling—by car. Airplanes, children, and cookbooks frighten her.
A Southern girl with an overactive imagination, RITA® and PRISM Award winner Terri Garey lives in Florida, where anything weird is considered normal. A former computer analyst, she left the dry world of logic behind in order to write novels filled with fantasy, romance, and happily-ever-afters.
Kathryn Smith has always loved happy endings. From the bedtime stories her wildly imaginative mother told, to the soap operas she wasn't supposed to watch, Kathryn loved to speculate as to how the characters would end up. Needless to say the entire Smith household heard about it when things did not go as young Kathryn thought they ought. Through her school years, Kathryn wrote stories and books for her friends to read. Even during college, when she studied journalism, her need to make up her own tales often drove her to late nights at the typewriter, writing about sexy men and the women they fell in love with. Fortunately, Kathryn's idea of sexy has changed over the years. Instead of rock stars and spies she writes about lords and...well, spies. The best part is she gets to share these stories with a few more people than were in her homeroom class!
or
Not Currently Available for Direct Purchase