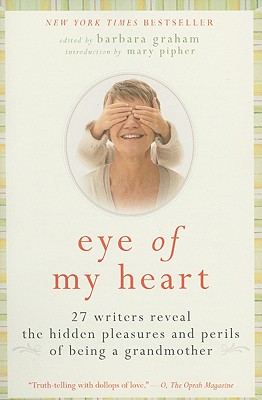 Eye of My Heart
27 Writers Reveal the Hidden Pleasures and Perils of Being a Grandmother
Paperback

* Individual store prices may vary.
Description
New York Times Bestseller
"Finally, a look at grandmothering that is decidedly unsentimental. These clear-eyed essays offer humor and insight as they take on the multigenerational lives many of us now lead." –Cokie Roberts, author of We Are Our Mothers' Daughters
In this groundbreaking collection, twenty-seven smart, gutsy writers explode the clichés and tell the real stories about what it's like to be a grandmother in today's world. Among the contributors:
Judith Viorst exposes the high-stakes competition for Most Adored Nana
Anne Roiphe learns to keep her mouth shut and her opinions to herself
Elizabeth Berg marvels at witnessing her child give birth to her child
Judith Guest confesses her failed attempt to be the perfect grandmother
Jill Nelson grapples with unforeseen mother-daughter tensions
Ellen Gilchrist reveals how grandparenthood has eased her fear of death
Beverly Donofrio makes amends for her shortcomings as a teenage mother
Bharati Mukherjee transcends her Hindu upbringing to embrace her adopted Chinese granddaughters
Mary Pipher deconstructs the role of grandmother in our changing world
Praise For Eye of My Heart: 27 Writers Reveal the Hidden Pleasures and Perils of Being a Grandmother…
"Spry and unsentimental. . . . Truth telling with dollops of love." — O magazine
"So many different perspectives and vantage points are woven seamlessly that no matter what their personal relationship to the word 'grandmother' is, readers will find much to make them laugh out loud—and also to break their hearts." — Christian Science Monitor
"As someone who was partly raised by my maternal grandparents and adored them, I always knew that grandmotherhood would be intense for me. But I didn't realize that it would be such a revelation. Eye of My Heart really does what its subtitle suggests—reveals the pleasures and perils of grandmotherhood." — Erica Jong, author of Fear of Fifty
"Insightful and candid, sometimes painfully so. . . . Women who have achieved grandmotherly status will appreciate this engaging, honest volume of essays by 26 writers who articulate shared emotions about their grandchildren." — Publishers Weekly
"In illuminating, unsentimental essays, 27 writers offer up insights on the tricky art of grandmothering." — People
"These stories are so fresh and fundamental, wrenching and joyful, that one is left feeling that the subject has never been cracked open before." — Harriet Lerner, author of The Dance of Anger
Harper Perennial, 9780061474163, 336pp.
Publication Date: April 6, 2010
About the Author
Barbara Graham is an essayist, playwright, and author who has written for Time; O, The Oprah Magazine; Glamour; More; National Geographic Traveler; and Vogue. She is a columnist for Grandparents.com and has two granddaughters.