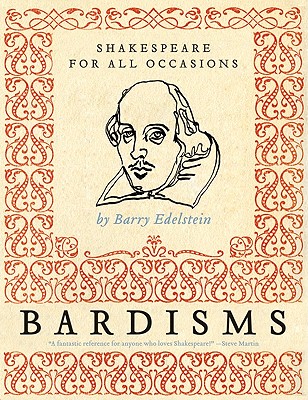 Bardisms: Shakespeare for All Occasions (Paperback)
Shakespeare for All Occasions
Harper Perennial, 9780061493522, 274pp.
Publication Date: February 2, 2010
Description
"Browse the delightful Bardisms to find a fitting quote for any mood, moment, or occasion. But read it through to learn how to enjoy Shakespeare and bring more of his language into your daily life." -- Jacob Weisberg, Editor of Slate magazine and author of Bushisms
"A fantastic reference for anyone who loves Shakespeare " -- Steve Martin
From renowned Shakespearean director Barry Edelstein comes Bardisms a straightforward, accessible guide to using Shakespeare's wit and wisdom at special occasions of every type. Over the course of his career, Edelstein has directed more than half of Shakespeare's plays, and he brings all his passion, insight, and years of study to Bardisms. In the words of Adam Gopnik (Through the Children's Gate), "Barry Edelstein knows more about Shakespeare, and in a less pedantic manner, than nearly anyone I know."
Praise For Bardisms: Shakespeare for All Occasions…
"A fantastic reference for anyone who loves Shakespeare!"
-Steve Martin

"Shakespeare always said it best, and after reading this accessible and insightful book, 'I am sorry that with better heed and judgment I had not quoted him.' (Hamlet)"
-Kevin Kline

"No Google search can discover all of what's in this book, which is a cornucopia of the Bard's wit and wisdom. Barry Edelstein's book is pure pleasure, a reference book for every occasion, a substitute for a game of charades, and a teaching guide for life."
-Ken Auletta, author and New Yorker writer

"Bardisms is smart, accessible, and fun and could only have been crafted by someone as passionate and knowledgeable as Barry Edelstein. It is the perfect book to help people put Shaksepeare, not up on some shelf, but in their everyday lives."
-George C. Wolfe, writer/director/producer

"Browse the delightful Bardisms to find a fitting quote for any mood, moment, or occasion. But read it through to learn how to enjoy Shakespeare and bring more of his language into your daily life."
-Jacob Weisberg, Editor, Slate Magazine, author Bushisms

"Barry Edelstein's passion for the Bard and sheer knowledge of his works is inspiring. Bardisms is an eloquent and enlightening book that allows everyone to feel like an expert on Shakespeare."
-America Ferrera
Advertisement