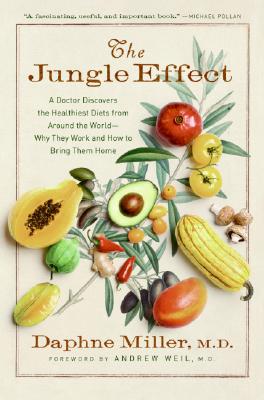 The Jungle Effect (Hardcover)
A Doctor Discovers the Healthiest Diets from Around the World--Why They Work and How to Bring Them Home
William Morrow, 9780061535659, 384pp.
Publication Date: April 29, 2008
Other Editions of This Title:
Paperback (6/23/2009)
* Individual store prices may vary.
Description
Pizza, pasta, hamburgers, sushi, tacos, and french fries . . . whether our ancestors were born in Madrid, Malaysia, or Mexico, chances are our daily food choices come from all around the globe. Unfortunately, we have taken some of the worst aspects of our varied ancestral menus to turn healthy cuisine into not-so-healthy junk food. Where did we go wrong?
Why is it that non-Western immigrants are so much more susceptible to diabetes and other diet-related chronic diseases than white Americans? How is it possible that relatively poor native populations in Mexico and Africa have such low levels of the chronic diseases that plague the United States? What is the secret behind the extremely low rate of clinical depression in Iceland—a country where dreary weather is the norm? The Jungle Effect has the life-changing answers to these important questions, and many more.
Dr. Daphne Miller undertook a worldwide quest to find diets that are both delicious and healthy. Written in a style reminiscent of Michael Pollan and Barbara Kingsolver, this book is filled with inspiring stories from Dr. Miller's patients, quirky travel adventures, interviews with world-renowned food experts, delicious (yet authentic) indigenous recipes, and valuable diet secrets that will stick with you for a lifetime.
Whether it's the heart-healthy Cretan diet, with its reliance on olive oil and fresh vegetables; the antidepression Icelandic diet and its extremely high levels of Omega 3s; the age-defying Okinawa diet and its emphasis on vegetables and fish; or the other diets explored herein, everyone who reads this book will come away with the secrets of a longer, healthier life and the recipes necessary to put those secrets into effect.
About the Author
Daphne Miller, M.D., is a practicing physician, author, and professor of family medicine at the University of California, San Francisco. For the past decade, her writing and teaching has explored the frontier between biomedicine and the natural world. Her widely acclaimed first book, The Jungle Effect, chronicles her nutrition adventures as she travels to traditional communities around the globe. A contributing columnist to the Washington Post as well as other newspapers and magazines, Miller holds a medical degree from Harvard University and an undergraduate degree from Brown University. She lives and gardens in Berkeley, California.
Praise For The Jungle Effect: A Doctor Discovers the Healthiest Diets from Around the World--Why They Work and How to Bring Them Home…
"A wonderfully practical tome that explains how folks around the world benefit from the healing power of food."
— Mehmet C. Oz, MD, co-author of You: The Owner's Manual

"This fascinating, well researched book explores the health benefits of traditional diets from Iceland to Cameroon. The benefits include reduced risk of heart disease, diabetes and depression."
— Miami Herald

"In this bracingly hopeful and eminently practical book, Daphne Miller shows us how we can bring the wisdom of traditional diets to our own plates, in the interest of both our health and our pleasure. The Jungle Effect is a fascinating, useful and important book."
— Michael Pollan, #1 New York Times bestselling author of The Omnivore's Dilemma and In Defense of Food

"[The Jungle Effect] reads like an exotic, ever-unfolding international mystery - with recipes."
— Heidi Benson, , San Francisco Chronicle

"The Jungle Effect was such an enjoyable read that I almost forgot I was being fed a steady dose of valuable nutrition advice—advice that combines the wisdom of our ancestors with the latest nutrition research."
— Bradley J. Willcox, MD, co-author of the New York Times bestseller, The Okinawa Program and Clinician-Scientist, Pacific Health Research Institute, University of Hawaii

"Daphne Miller is the Sherlock Holmes of healthy eating. The Jungle Effect is an odyssey where she follows clues and food experts to discover some of the healthiest diets around the world -- and how best to recreate those meals and lifestyles in our daily lives."
— Juliette Rossant, author of SUPER CHEF

"The Jungle Effect is a brilliant piece of work. Why? Because it is so gloriously green: indigenous knowledge is recycled and transformed into a comfy, hip, yummy set of food choices. The message is practical, palatable, and pleasing."
— Harriet Beinfield, coauthor Between Heaven and Earth: A Guide to Chinese Medicine

"Presents us with a unique travelogue of healthy eating."
— Gail Altschuler, MD, Medical Director, The Altschuler Clinic, A Center for Weight Loss & Wellness
or
Not Currently Available for Direct Purchase