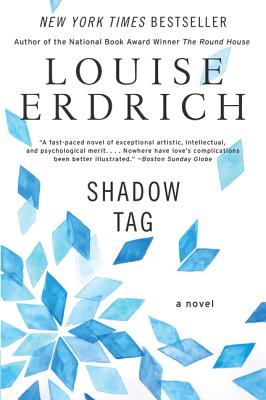 Shadow Tag
A Novel
Paperback

* Individual store prices may vary.
Other Editions of This Title:
Digital Audiobook (2/1/2010)
Hardcover (2/2/2010)
Paperback, Large Print (2/2/2010)
Description
Shadow Tag is a stunning tour-de-force from Louise Erdrich, the bestselling author of The Plague of Doves and National Book Award-winner The Round House. When Irene America discovers that her artist husband, Gil, has been reading her diary, she begins a secret Blue Notebook, stashed securely in a safe-deposit box. There she records the truth about her life and marriage, while turning her Red Diary—hidden where Gil will find it—into a manipulative charade. As Irene and Gil fight to keep up appearances for their three children, their home becomes a place of increasing violence and secrecy. And Irene drifts into alcoholism, moving ever closer to the ultimate destruction of a relationship filled with shadowy need and strange ironies.
Alternating between Irene's twin journals and an unflinching third-person narrative, Louise Erdrich's Shadow Tag fearlessly explores the complex nature of love, the fluid boundaries of identity, and the anatomy of one family's struggle for survival and redemption.
Praise For Shadow Tag: A Novel…
"Gripping…a hushed and haunting tale."
— USA Today

"A portrait of an 'iconic' marriage on its way to dissolution…Erdrich's unbridled urgency yields startlingly original phrasing as well as flashes of blinding lucidity."
— New York Times Book Review

" A fierce novel…raw…alive…vividly present…it marks a breakthrough for the author."
— Columbus Dispatch

"Read this if: You're looking for a well-written, well-told tale that is thought- and discussion- provoking."
— Baltimore Sun

"A page-turner…a most compelling novel"
— Dallas Morning News

"SHADOW TAG is hard to put down...It builds to a spectacular ending with a twist I didn't see coming...Erdrich has taken a tragedy and turned it into art."
— Philadelphia Inquirer

"A domestic drama that builds an almost thriller-like momentum…A novel as dark and tragic as it is difficult to put down"
— San Diego Union-Tribune

Clear, urgent, deep as a swift river…accomplishes the literary miracle of making a reader ravenous to finish it, while stinging with regret at how soon it must end."
— San Francisco Chronicle

"SHADOW TAG is compelling…a searing, personal examination of one family that's falling apart."
— Miami Herald

"An exquisite, character-driven tale…its piercing insights into sex, family, and power are breathtaking…A masterfully concentrated and gripping novel of image and conquest, autonomy and love, inheritance and loss."
— Donna Seaman, Booklist

"Muscular and fearless…It is [Erdrich's] superb telling of this story that makes it real, her stellar writing that brings powerful truth to invented worlds."
— BookPage

"Erdrich offers a portrait that's convincing…Shadow Tag is wonderfully, painfully readable and revealing."
— Minneapolis Star Tribune

"A fast-paced novel of exceptional artistic, intellectual, and psychological merit…Nowhere have love's complications been better illustrated than in the raw honesty of Shadow Tag."
— Boston Sunday Globe

"A masterpiece…a captivating work of fiction…exquisite…tightly focused…arresting…This profoundly tragic novel captures that lament in some of Erdrich's most beautiful and urgent writing."
— Ron Charles, Washington Post

"A brilliant cautionary tale…Reading it is like watching a wildfire whose flames are so mesmerizingly beautiful that it's almost easy to ignore the deadly mess left behind."
— Library Journal

"Into this deeply personal novel about marriage, family and individual identity, Erdrich weaves broader questions about cause and effect in history...A small masterpiece of compelling, painfully moving fiction."
— Kirkus Reviews (starred review)
Harper Perennial, 9780061536106, 272pp.
Publication Date: December 13, 2016
About the Author
Louise Erdrich is the author of seventeen novels as well as volumes of poetry, children's books, short stories, and a memoir of early motherhood. Her novel The Round House won the National Book Award for Fiction. The Plague of Doves won the Anisfield-Wolf Book Award and was a finalist for the Pulitzer Prize, and her debut novel, Love Medicine, was the winner of the National Book Critics Circle Award. Erdrich has received the Library of Congress Prize in American Fiction, the prestigious PEN/Saul Bellow Award for Achievement in American Fiction, and the Dayton Literary Peace Prize. She lives in Minnesota with her daughters and is the owner of Birchbark Books, a small independent bookstore.
What is your opinion of Irene and Gil? Did you like one more than the other? Do they bear equal responsibility for the state of their relationship, or do you see them more as victim and perpetrator? If so, which is which?
How would you describe their relationship? Do they love each other? What does love mean to Gil? What about Irene? How do they see their relationship? How did they express their feelings for each other? How did love become a destructive force for them? Was there any way they could have unwound the spiral of pain they shared?
Would you call their relationship unique, or are the passions and demons that drive them inherent in marriage itself?
Were Gil and Irene good parents? What role did their children play in their lives? How does Irene and Gil's dysfunctional marriage affect their children? Would their marriage have been different if they had remained childless?
Why did Irene choose to keep a secret diary? Why not just confront Gil—or walk away?
One of the central themes of the story is the friction between independence and control. Which character, ultimately, was the more controlling in the relationship? Did Irene truly wish to be free? What did independence mean to her?
Irene liked to lock herself in the bathroom for escape. "It was her nakedness. That she could be alone with her nakedness. And there was no demand on her nakedness, not from her husband, whose reaction to her nakedness was much too complex, nor from her babies . . . or even from the mirror, which demanded that she assess her nakedness as a woman does, through the eyes of others." What did nakedness symbolize for her?
Does a woman lose her identity—her sense of oneness with herself—once she marries and has children? How can this sense of self be regained if it's lost? Can we keep ourselves whole, or does the nature of relationships—the opening of the self—demand that we give away pieces of ourselves? Is this issue unique to women or do you believe that men confront it too? Did Gil?
Irene asks Gil, "Do you ever think about privacy, I mean, as a notion, how much people are entitled to it? How much people give up when they're together, say, how much privacy is important or right?" How would you answer these questions?
Like many other artists, Gil painted Irene as "a way of trying to get at the essential mystery, the unknown essence, otherness, and it was also an act of fascinated love." Irene believed she was transparent to him. Do you agree? And can art reveal that "essential mystery"? How?
What is the significance of art in the novel? How does the work of George Catlin, the subject of Irene's thesis, parallel that of Gil? Were both artists stealing souls? Is the creative process parasitic in nature?
What does the title Shadow Tag mean? How much of Irene and Gil's selves were overshadowed by the other? Do you believe Gil ultimately captured Irene's shadow? Was that his goal? Did Irene possess Gil's shadow?
Did alcohol mask their problems or unleash them? What role did it play in Gil's creativity? Why do you think many artists have had problems with alcohol?
How much do their backgrounds as Native Americans influence their characters? What role does that heritage play in the story? What was the impact of their childhoods on the people they would become?
How did discovering her half-sister Louise, affect Irene? What role did Louise play in the story?
Did the novel's ending shock you? What were your overall impressions of the story? What did you feel on finishing the novel? What insights did you glean into love, marriage, and family?
If you've read other books by Louise Erdrich, how does Shadow Tag fit into her oeuvre?