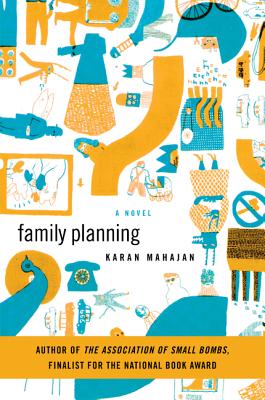 Family Planning
A Novel
Paperback

* Individual store prices may vary.
Other Editions of This Title:
Paperback (1/1/2010)
Description
Author of The Association of Small Bombs, longlisted for the National Book Award
Rakesh Ahuja, a Government Minister in New Delhi, is beset by problems: thirteen children and another on the way; a wife who mourns the loss of her favorite TV star; and a teenaged son with some really strong opinions about family planning.
To make matters worse, looming over this comical farrago are secrets—both personal and political—that threaten to push the Ahuja household into disastrous turmoil. Following father and son as they blunder their way across the troubled landscape of New Delhi, Karan Mahajan brilliantly captures the frenetic pace of India's capital city to create a searing portrait of modern family life.
Praise For Family Planning: A Novel…
"Mahajan's sprightly first novel portrays India's capital—10 million strong—in all its explosive fecundity. . . . Mahajan is only 24 years old, but he has already developed an irresistible voice with a rich sense of humor fueled by sorrow."
— Ron Charles, The Washington Post Book World

"A spot-on satire of Indian family life, globalization, and intergenerational strife."
— The New York Post

"Karan Mahajan is a natural—a masterful storyteller, an assured stylist and a gentle satirist whose unblinking vision is ultimately tempered by compassion. Family Planning is an incredibly accomplished debut. More than a fine first novel, it's one of the best comic novels I've read in years."
— Jay McInerney, author of Bright Lights, Big City

"An excellent debut. . . . A portrait of family that is both comical and heartbreaking. . . . Mahajan's effortless blending of comedy and tragedy is irresistible."
— Publishers Weekly

"Sharply written, bracingly funny, and unexpectedly moving—Karan Mahajan combines 'take no prisoners' satire with haunting insights into the human condition."
— Manil Suri

"An entertaining expose of a unique family."
— Booklist

"A delightfully entertaining novel about father-son conflict that readers from just about any culture can appreciate. . . . Mahajan interjects hilarity throughout otherwise tense and poignant moments of family drama. . . . Strongly recommended."
— Library Journal

"Brave, breackneck, and amusing. . . . A fearless cultural domestic tour. . . . Irreverent, fresh, and sometimes, given its author's youth, preternaturally wise."
— The San Francisco Chronicle

"The truest portrait of modern New Delhi I've read, and the funniest book of the year."
— Suketu Mehta, The Daily Beast

"Comic novels, full of loveable eccentrics and sly social commentary, seem to be one of 'new' India's main exports; this is one of the sharpest and funniest examples."
— The Times (London)

"Mahajan is only 24 years old, but he has a mature and impressive grasp of poignant comedy and has opened up Delhi to western readers in a way that a more overtly politicised novel may not."
— The Observer (London)
Harper Perennial, 9780061537257, 288pp.
Publication Date: November 18, 2008
About the Author
Karan Mahajan was born in 1984 and grew up in New Delhi. A graduate of Stanford University, he now lives in Brooklyn, New York.