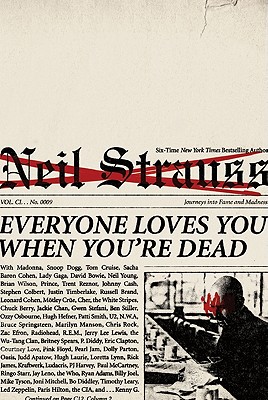 Everyone Loves You When You're Dead
Journeys into Fame and Madness
Paperback

* Individual store prices may vary.
Description
Neil Strauss can uncover the naked truth like nobody else. With his groundbreaking book The Game, Strauss penetrated the secret society of pickup artists; now, in Everyone Loves You When You're Dead, his candid, surprising, and often hysterical interviews reveal the hidden sides of 120 of the world's biggest celebrities, from Hugh Heffner to Johnny Cash to Snoop Dogg and beyond.

Praise For Everyone Loves You When You're Dead: Journeys into Fame and Madness…
"We might as well have had sex now." — Lady Gaga
"If you were a girl, I'd f*ck you." — Bo Diddley
"We could do fifteen minutes in Vegas." — Chuck Berry
"One of the longest and greatest interviews I've ever had." — Brian Wilson, The Beach Boys
"The best interview of my life." — Britney Spears
"Well Neil, f*ck you." — Phil Collins, Angry Letter to Neil Strauss
"The best and most honest daily newspaper reporter rock has ever seen." — Dave Marsh, Author
"This excellent bathroom read is boiled down like little rocks of crack." — Library Journal
"Gonzo interviewing at its best." — Kirkus Reviews (starred review)
"A terrific look at the dysfunctional livelihoods of stardom." — Publishers Weekly
"God bless the demons—and Neil Strauss too." — Nikki Sixx, Mötley Crüe
It Books, 9780061543678, 544pp.
Publication Date: March 15, 2011
About the Author
NEIL STRAUSS is an award-winning writer for Rolling Stone and the author or coauthor of ten New York Times bestsellers. He splits his time between Los Angeles and wherever the Jonas Brothers are.