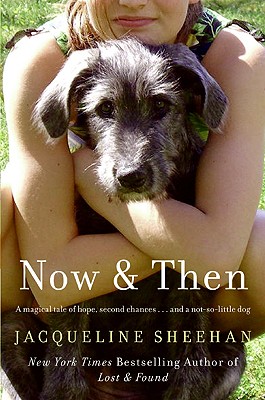 Now & Then
Paperback

* Individual store prices may vary.
Other Editions of This Title:
Paperback, Large Print (1/20/2010)
MP3 CD (8/11/2015)
Compact Disc (3/1/2011)
Compact Disc (3/1/2011)
MP3 CD (3/1/2011)
MP3 CD (3/1/2011)
Description
Living a dog's life...now and then.
Anna O'Shea has failed at marriage, shed her job at a law firm, and she's trying to re-create herself when she and her recalcitrant nephew are summoned to the past in a manner that nearly destroys them. Her twenty-first-century skills pale as she struggles to find her nephew in nineteenth-century Ireland. For one of them, the past is brutally difficult, filled with hunger and struggle. For the other, the past is filled with privilege, status, and a reprieve from the crushing pain of present-day life. For both Anna and her nephew, the past offers them a chance at love.
Will every choice they make reverberate down through time? And do Irish Wolfhounds carry the soul of the ancient celts?
The past and present wrap around finely wrought characters who reveal the road home. Mystical, charming, and fantastic, New York Times bestselling author Jacqueline Sheehan's Now & Then is a poignant and beautiful tale of a remarkable journey. It is a miraculous evocation of a breathtaking place in a volatile age filled with rich, unforgettable, deeply human characters and one unforgettable dog named Madigan.
Praise For Now & Then…
"Sheehan vividly depicts Irish-British conflicts as Anna becomes involved with an Irish smuggler's group...Equally compelling is Joe's experience as a wrestling champ and his romance with Taleen. Throw in loyal Irish wolfhound Madigan, and you've got an altogether enjoyable romantic adventure yarn with a heavy helping of magic."
— Publishers Weekly

"Now & Then is certainly different from what I normally read but different in a good way. The descriptions of nineteenth century Ireland are vivid, the people are believable, and I was totally caught up in their experiences."
— DearAuthor
William Morrow Paperbacks, 9780061547782, 400pp.
Publication Date: June 23, 2009
About the Author
Jacqueline Sheehan, Ph.D., is a fiction writer and essayist, the bestselling author of the novels Lost & Found and Now & Then. Currently on the faculty of Writers in Progress and Grub Street in Massachusetts, she also offers international workshops on the combination of yoga and writing. She writes travel articles about lesser-known destinations and lives in Massachusetts.
Both main characters, Anna and Joseph, are troubled in their present lives. How does their leap into the past offer them a second chance?
Irish wolfhounds, which were close to extinction by the middle of the 19th Century, were said to carry the spirits of the ancient Celts. Discuss why the dogs appear to refuse to breed on the Colonel's estate.
The outer trapping of Joseph's life improve dramatically with his new life. What are the factors that initially leave him blind to the nature of the colonel? What are the elements that make it hard for him to understand the big picture?
Privilege and class affect Anna and Joseph in profoundly different ways. They even change physically in ways that are influenced by their situations. How do Anna and Joseph represent the difference between the Irish and land-rich English?
The Irish are never quite who they seem to be in this story. What strategies do the Irish use to communicate and survive while living in an occupied nation?
Glenis is Anna's greatest friend and defender. What affect does Glenis' sacrifice have on Anna?
In what ways do Anna and Joseph have more advantages or disadvantages because they come from the future?
Biddy Early, Deirdre and Taleen all have "the sight" to greater or lesser degrees. Their influence is understated but essential. Which characters would not have have survived without them?
Friendship and love figure prominently in this story. Although we only learn about the last days of Anna's marriage to Steve, how does it compare to her relationship with Donal? Why is she so tempted to stay in the past?
The story starts at the beginning— or does it? Biddy Early describes time as a spiral that is somewhat beyond our comprehension. How did you understand the nature of time travel in this story? Is it important to understand every detail of it? How did the spiraling of time, and a curse from the past, effect this Irish American family?
Speculate on Anna's life after she returns to present day Ireland. How has time travel changed her?