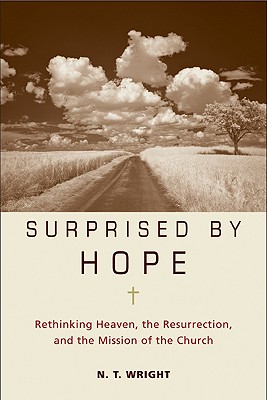 Surprised by Hope (Hardcover)
Rethinking Heaven, the Resurrection, and the Mission of the Church
HarperOne, 9780061551826, 352pp.
Publication Date: February 5, 2008
Other Editions of This Title:
Digital Audiobook (2/26/2018)
Hardcover (2/28/2010)
* Individual store prices may vary.
Description
In Surprised by Hope: Rethinking Heaven, the Resurrection, and the Mission of the Church, top-selling author and Anglican bishop, N.T. Wright tackles the biblical question of what happens after we die and shows how most Christians get it wrong. We do not "go to" heaven; we are resurrected and heaven comes down to earth--a difference that makes all of the difference to how we live on earth. Following N.T. Wright's resonant exploration of a life of faith in Simply Christian, the award-winning author whom Newsweek calls "the world's leading New Testament scholar" takes on one of life's most controversial topics, a matter of life, death, spirituality, and survival for everyone living in the world today. 
About the Author
N. T. Wright, one of the world's leading Bible scholars, is the chair of New Testament and Early Christianity at the School of Divinity at the University of St. Andrews, an Anglican bishop, and bestselling author. Featured on ABC News, The Colbert Report, Dateline, and Fresh Air, Wright is the award-winning author of Simply Good News, Simply Jesus, Simply Christian, Surprised by Hope, How God Became King, Scripture and the Authority of God, Surprised by Scripture, and The Case for the Psalms, as well as the recent translation of the New Testament The Kingdom New Testament and the much heralded series Christian Origins and the Question of God.
Praise For Surprised by Hope: Rethinking Heaven, the Resurrection, and the Mission of the Church…
"This book is N.T. Wright at his finest."
— Rob Bell, author of Velvet Elvis

His conclusions are both simple and world-shaking
— Library Journal

This book will be widely read because it stirs together Scripture, tradition, art and world affairs with pleasing metaphors and public courage.
— The Dallas Morning News

"Wright's unwavering faith in the resurrection is quite evident as he defends the Easter narratives on historical and theological grounds."
— America Magazine

"N.T. Wright can write. . . when it comes to questions of Christ's resurrection and what that means, no one is more persuasive. Wright's new book, Surprised by Hope, builds on C.S. Lewis' succinct defense of the faith and takes it to a new level."
— World Magazine

"In calling Christians to an epistemology of love and a re-emphasis of the Easter season, Wright knocked it out of the park."
— Beliefnet (A "Top Religious Book of the Year")

A crystal-clear, powerful course-correction for all of us--Christian or otherwise. If you want to know what Easter is about, get yourself a copy of Surprised by Hope and hunker down for the read of a lifetime....literally.
— Phyllis Tickle, Beliefnet.com