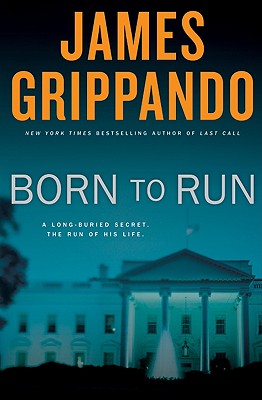 Born to Run (Hardcover)
A Novel of Suspense
Harper, 9780061556111, 336pp.
Publication Date: December 1, 2008
* Individual store prices may vary.
Description
" A] thrill-a-minute novel."--USA Today Jack Swyteck is back in action in Born to Run--the eighth outing for the danger-prone Miami lawyer in author James Grippando's New York Times bestselling series. In this timely and spellbinding thriller, Swyteck is embroiled in shady Washington D.C. politics when his own father is selected by the President to replace the Vice President, killed in a hunting accident. Born to Run crackles with suspense, surprises, and razor sharp wit--"a fun 200-proof yarn," the Washington Post raves--and serves as indisputable evidence, as crime fiction superstar Harlan Coben attests, that "Grippando grips from page one."
Praise For Born to Run: A Novel of Suspense…
"Grippando's innovative spin puts Born to Run in its own category. . . . [He] shows how to shape a plot for maximum suspense."
-South Florida Sun Sentinel

"Grippando unveils his plot layer by layer, adding in colorful characters. Once you're well and truly hooked, with the suspense drawn tight, it's all blasted wide open. All you can do is hang on. When it's over, the only question is, 'When's the next book out?'"
-Romantic Times

"A complex plot that . . . doesn't let up. . . . Grippando leads the reader into a twisted labyrinth in which everyone has something to hide, and something more to gain. Pick up Born to Run and you'll have trouble putting it down."
-The Free Lance-Star (Fredericksburg, VA)

"James Grippando is a dependable author who delivers a few hours of thrills every time. . . . You can always count on [him] to offer some time away from the humdrum."
-Kingston Observer (MA)

"Grippando's wise-guy dark comedy is a great strength of this series. . . . Sure-fire really is the word for him."
-Sullivan County Register (NY)

"A veep with a bum ticker, a mishap on a hunting trip . . . In James Grippando's Born to Run, it takes on Carl Hiaasen-esque proportions. . . . Grippando spins a fun 200-proof yarn."
-Washington Post

"Plenty of action and the suspense holds firm until the final pages."
-Newark Star Ledger

"A fast and formidable read . . . Adrenaline-fused."
-Madison County Herald (MS)

"In this multilayered story with greater depth than a traditional potboiler, Grippando's Swyteck fights a long-standing, but improved, feud with his father. . . . Their interpersonal relationship creates a wonderful platform which Grippando uses to insightfully wrestle with all kind of ethical and familial situations."
-Contra Costa Times

"A top-notch thriller with many mesmerizing scenes . . . A distinctive, intriguing tale that could be ripped from tomorrow's headlines."
-Lansing State Journal (MI)

"From the Florida Everglades to Washington politics, the action is hot and heavy when the U.S. vice president ends up dead. [An] intense thriller."
-National Examiner

"[A] thrill-a-minute novel."
-USA Today

"Grippando ratchets up the action to a breakneck pace . . . stopping to liberally sprinkle the proceedings with snarky dialogue, pointed satire, and some touching father-son moments. Everything you expect in a Grippando novel and more."
-Booklist
or
Not Currently Available for Direct Purchase