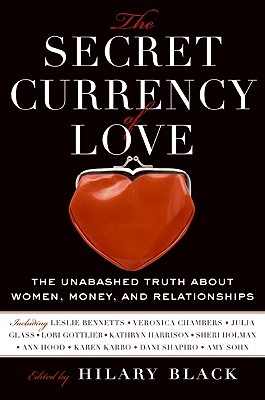 The Secret Currency of Love (Hardcover)
The Unabashed Truth About Women, Money, and Relationships
William Morrow, 9780061560965, 320pp.
Publication Date: January 1, 2009
* Individual store prices may vary.
or
Not Currently Available for Direct Purchase
Description
Sex & The City meets The Wall Street Journal....Juicy, smart, dramatic and insightful an addictive read. Beth Kobliner, author of Get a Financial Life: Personal Finance in Your Twenties and ThirtiesIn The Secret Currency of Love, "edited by Hilary Black, acclaimed, bestselling, and award-winning women writers explore the fraught and powerful connections between love and money.As featured on the "Today Show"--withcontributions by Karen Karbo, Kathryn Harrison, Lori Gottlieb, Julia Glass, Rebecca Traister, Dani Shapiro, Amy Sohn, and others--The Secret Currency of Love "takes an unabashed look at relationships through the often-distorting lens of finance. As Elle" magazine informs us, All the bases are covered here, from the hard lessons women learn (and impart) to the inextricability of romance and cold hard cash.
Praise For The Secret Currency of Love: The Unabashed Truth About Women, Money, and Relationships…
"The most interesting anthology I've seen in years. I read it with fascination, to the very last page."
-Cathi Hanauer, novelist and editor of The Bitch in the House

"Multiple themes are explored in personal and heartfelt ways: money is success, failure, control, submission, love and hate. Money can mean the chance at motherhood or the ruin of a marriage. In the end, money is everything and nothing."
-Forbes

"This exceptionally honest and poignant collection deserves a place on the bookshelves of women of all ages, backgrounds, income, net worth levels and walks of life."
-Publishers Weekly (starred review and Pick of the Week)

"Well-written first-person accounts result in an engrossing read throughout. It's easy to be affected by their experiences, with emotions running the gamut of happy to dismay to sadness at some outcomes."
-New Straits Times (Malaysia)

"Deeply honest and scandalously revealing, THE SECRET CURRENCY OF LOVE offers a mirror into our own complicated feelings about money and relationships—and every woman who reads it will see herself in its pages. You won't be able to put it down!"
-Liz Lange, Founder, Liz Lange Maternity

"Funny, insightful and brutally honest, this book is Sex & The City meets The Wall Street Journal, with a sprinkle of Dostoevsky. Hilary Black has inspired stellar writers to wax poetic (and at times, hilariously pathetic) on the last taboo: money. Juicy, smart, dramatic and insightful—an addictive read."
-Beth Kobliner, author of Get a Financial Life: Personal Finance in Your Twenties and Thirties

"Introducing the 27 emotionally invested and powerfully introspective essays in THE SECRET CURRENCY OF LOVE. All the bases are covered here, from the hard lessons women learn (and impart) to the inextricability of romance and cold hard cash."
-Elle

"Everyone wants to know their worth, in both love and money — but the lessons lie in the tension between the two. The women who authored this incredible collection of essays dare to get inside that conflict and unpeel the complicated truths that make up our life stories."
-Stacy Morrison, Editor-in-Chief, Redbook Magazine

"A compelling new anthology that offers a fascinating look at how women view money that is, by turns witty, scandalous, poignant and heart-rending."
-San Antonio Express-News

"A compelling new anthology, The Secret Currency of Love: The Unabashed Truth about Women, Money, and Relationships. In it, a number of prominent female writers (including Julia Glass, Lauri Abraham and Joni Evans) spill the beans about money in their own lives."
-Time magazine
Advertisement