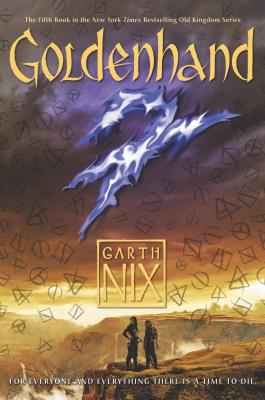 Goldenhand (Old Kingdom #5)
Hardcover

* Individual store prices may vary.
Other Editions of This Title:
Digital Audiobook (10/10/2016)
Paperback (9/3/2019)
CD-Audio (10/11/2016)
Description
The long-awaited fifth installment in Garth Nix's New York Times bestselling Old Kingdom series, for readers who enjoy series by Rae Carson, Kristin Cashore, Scott Westerfeld, and Cassandra Clare.
Goldenhand takes place six months after the events of Abhorsen and follows the novella Nicholas Sayre and the Creature in the Case, which is featured in Across the Wall.
Lirael lost one of her hands in the binding of Orannis, but now she has a new hand, one of gilded steel and Charter Magic.
On a dangerous journey, Lirael returns to her childhood home, the Clayr's Glacier, where she was once a Second Assistant Librarian. There, a young woman from the distant North brings her a message from her long-dead mother, Arielle.
It is a warning about the Witch with No Face. But who is the Witch, and what is she planning? Lirael must use her new powers to save the Old Kingdom from this great danger—and it must be forestalled not only in the living world but also in the cold, remorseless river of Death.
Praise For Goldenhand (Old Kingdom #5)…
Praise for Goldenhand: "A masterfully spun tale well worth the years long wait."
— Kirkus Reviews (starred review)

"For fantasy lovers, teens and adults alike."
— School Library Journal

"Fans will cheer this latest volume- tightly paced with a satisfying resolution, capable and relatable female characters, plenty of action, and reappearances by beloved characters-and fervently hope for more to come."
— Horn Book Magazine

"Goldenhand delivers the bleak, beautiful magic only Garth Nix can create-impeccable in its details, harrowing in its action."
— Leigh Bardugo, New York Times bestselling author of Six of Crows and The Grisha Trilogy

"Goldenhand reaffirms why Nix is a master of the genre: his exquisitely detailed world-building is unparalleled, and his characters are so tremendously alive and compelling that I'm convinced there's Charter Magic in every word."
— Sarah J. Maas, New York Times bestselling author of A Court of Thorns and Roses and Throne of Glass series

"Garth Nix is one of the best worldbuilders in fantasy, and this book is merely further proof. I love the Old Kingdom series, and Goldenhand is an excellent continuation, packed with the excitement and passion of a storytelling virtuoso at the height of his abilities."
— Brandon Sanderson, New York Times bestselling author of the Mistborn trilogy, Warbreaker, The Alloy of Law, The Way of Kings, Rithmatist, and Steelheart.

Praise for the Old Kingdom series: Praise for Clariel: "Between striking characters-from the heroic if not entirely competent young Abhorsen-in-Waiting, Belatiel, to the enigmatic, catlike Mogget-and Nix's brilliantly complex magic system, this superb tale is exactly the book fans of the series have been awaiting."
— Publishers Weekly (starred review)

"Themes of freedom and destiny underpin Clariel's harrowing, bittersweet story, and readers will delight in the telling (and in fan favorite Mogget's return)."
— Booklist (starred review)

"Clariel is a deeply sympathetic character faced with complicated choices, the consequences of which are frighteningly uncertain as she is pulled between the wild Free Magic and the disciplined Charter."
— School Library Journal (starred review)

"Nix's tale provides a complete experience unto itself. But his focus on this strong character whose overriding passion is to go her own way provides a hugely satisfying background to the other Abhorsen books. A suspenseful prequel to the much-loved Abhorsen books, showcasing the independent Clariel."
— Shelf Awareness (starred review)

Praise for SABRIEL: "Sabriel is a winner, a fantasy that reads like realism. Here is a world with the same solidity and four dimensional authority as our own, created with invention, clarity, and intelligence. I congratulate Garth Nix. And I look forward to reading his next piece of work."
— Philip Pullman

Praise for LIRAEL: "What makes Lirael a delight is the magic that Nix brings to his story and to his characters."
— Publishers Weekly (starred review)

"Riveting."
— Kirkus Reviews (starred review)

Praise for ABHORSEN: "Breathtaking, bittersweet, and utterly unforgettable."
— Kirkus Reviews (starred review)

"At once an allegory regarding war and peace and a testament to friendship, this is thought-provoking fantasy."
— Publishers Weekly (starred review)
HarperCollins, 9780061561580, 368pp.
Publication Date: October 4, 2016
About the Author
Garth Nix is a New York Times bestselling novelist and has been a full-time writer since 2001, but has also worked as a literary agent, marketing consultant, book editor, book publicist, book sales representative, bookseller, and as a part-time soldier in the Australian Army Reserve.
Garth's many books include the Old Kingdom fantasy series, beginning with Sabriel and continuing to Goldenhand; the sci-fi novels Shade's Children and A Confusion of Princes; the Regency romance with magic Newt's Emerald; and novels for children including The Ragwitch, the Seventh Tower series, the Keys to the Kingdom series, and Frogkisser!, which is now in development as a feature film with Fox Animation/Blue Sky Studios. Garth has written numerous short stories, some of which are collected in Across the Wall and To Hold the Bridge. He has also cowritten several children's book series with Sean Williams, including TroubleTwisters and Have Sword, Will Travel.
More than six million copies of his books have been sold around the world and his work has been translated into forty-two languages. You can find him online at www.garthnix.com.