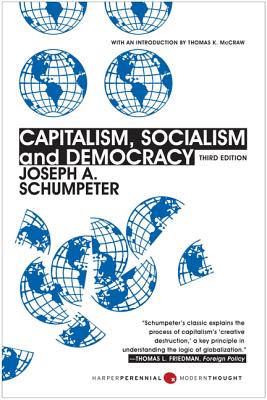 Capitalism, Socialism and Democracy (Paperback)
Harper Perennial, 9780061561610, 431pp.
Publication Date: November 4, 2008
Description
In this definitive third and final edition (1950) of his masterwork, Joseph A. Schumpeter introduced the world to the concept of "creative destruction," which forever altered how global economics is approached and perceived. Now featuring a new introduction by Schumpeter biographer Thomas K. McCraw, Capitalism, Socialism and Democracy is essential read-ing for anyone who seeks to understand where the world economy is headed.
Praise For Capitalism, Socialism and Democracy…
"The 20th century's foremost economist."
-Steve Forbes, Forbes

"The most influential economist of the 20th century."
-Peter Drucker, Fortune

"The great economist Joseph Schumpeter highlighted the role of innovation in powering the rise of new industries, the creative destruction of existing ones, and the growth in prosperity of economies."
-Richard Florida, Atlantic

"Schumpeter gave us stunning insights into how the world really works. We are now living, it is said, in the Age of Schumpeter. . . . Schumpeter was a powerful prophet, and he now offers dazzling insights into everything from the rise of Wal-Mart to prosperity's discontents."
-Robert J. Samuelson, Newsweek

"The greatest defense of capitalist, European civilization ever penned. . . . Schumpeter did more than anyone to persuade American leaders to preserve the capitalist system"
-American Conservative

"Schumpeter may well be the most important economist of the 21st century."
-J. Bradford DeLong, Chronicle of Higher Education

"Schumpeter was the most farsighted of twentieth-century economists. His focus on capitalism and creative destruction made him the prophet of globalization."
-The Nation
Advertisement