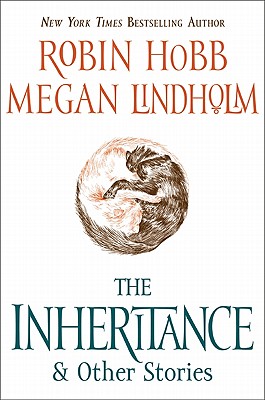 The Inheritance: And Other Stories (Paperback)
And Other Stories
Voyager, 9780061561641, 374pp.
Publication Date: May 3, 2011
Description
"One of the most important writers in 21st-Century fantasy."
--Contra Costa Times
"Robin Hobb is one of our very best fantasy writers...always fresh, entertaining, and completely engrossing."
--New York Times bestselling author Kevin J. Anderson
The Inheritance & Other Stories is a marvelous new collection of short fiction from New York Times bestselling master storyteller Robin Hobb--including tales written under the pseudonym Megan Lindholm, by which the acclaimed fantasist first began her illustrious writing career. Included in this essential volume are Hugo and Nebula Award-nominated short masterworks, as well as brand new tales and the never before published in the U.S. title story--a unique compendium of wonders displaying the breathtaking skill, imagination, and remarkably varied styles of both alter egos.

Praise For The Inheritance: And Other Stories…
"At once harrowing, unexpected, and morally complex. . . . I'm eager to see what happens next."
-Locus

"Displaying Hobb's gift for creating unusual and compelling worlds, [Shaman's Crossing] maintains her high standard of storytelling."
-Library Journal

"Fast action, deep emotional bonds and a great ending...[I] encourage you to check out Dragon Haven."
-Blogcritics.com

"FOREST MAGE presents a darker and more complex hero in Nevare . . .Ms. Hobb has given a lot of thought to her world and characters. Dark as they are, they stand out like jewels on velvet."
-Romance Reviews Today

"[D]elicate, vivid language . . . [a] fine example of how to avoid a middle-book slump."
-Booklist

"All [of the stories] are beautifully written parables, expressing a clear message but managing not to be too offensively preachy about it.…You don't have to be a fan of either of the author's identities to enjoy this collection—but you may become one."
-Kirkus Reviews on THE INHERITANCE

"An engaging, entertaining introduction to both sides of the author's work."
-Booklist (starred review) on THE INHERITANCE

"Taken as a whole, the two voices represented here provide a richly textured body of work from one of the genre's most accomplished writers. VERDICT Fans of both Lindholm and Hobb will appreciate the diversity of this one-woman showcase."
-Library Journal on THE INHERITANCE

"A priceless reading experience."
-Paul Goat Allen on THE INHERITANCE

"One author, two pseudonyms, and a wonderful collection of short stories…an exciting addition to the fantasy genre. Her stories are fresh and surprising as she weaves in subtle twists."
-Portland Book Review on THE INHERITANCE
Advertisement