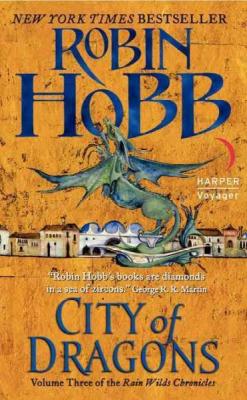 City of Dragons
Volume Three of the Rain Wilds Chronicles
Mass Market

* Individual store prices may vary.
Other Editions of This Title:
Digital Audiobook (2/6/2012)
Description
New York Times bestselling author Robin Hobb returns to world of the Rain Wilds—called "one of the most gripping settings in modern fantasy" (Booklist)—in City of Dragons. Continuing the enthralling journey she began in her acclaimed Dragon Keeper and Dragon Haven, Hobb rejoins a small group of weak, half-formed and unwanted dragons and their displaced human companions as they search for a legendary sanctuary. Now, as the misfit band approaches its final destination, dragons and keepers alike face a challenge so insurmountable that it threatens to render their long, difficult odyssey utterly meaningless. Touching, powerful, and dazzlingly inventive, Hobb's City of Dragons is not to be missed—further proof that this author belongs alongside Raymond E. Feist, Terry Brooks, and Lois McMaster Bujold in the pantheon of fantasy fiction's true greats.
Praise For City of Dragons: Volume Three of the Rain Wilds Chronicles…
"A master fantasist." — Kansas City Star
"fast action, deep emotional bonds and a great ending...[I] encourage you to check out Dragon Haven" — Blogcritics.com
"Hobb creates a completely alluring portrait of dragons and their culture." — Bellingham Herald on DRAGON HAVEN
"Hobb has a deft hand with accessible and sympathetic characters, regardless of their fantasy trappings, and he makes effective use of the divide between what the reader knows and what the characters know to build tension.…A quick and fun read." — Miami Herald on DRAGON HAVEN
"Hobb's strength has always been her ability to create compelling characters to inhabit her richly detailed worlds. The Rain Wilds Chronicles is no exception." — Shroud Magazine Book Reviews on DRAGON KEEPER and DRAGON HAVEN
"In a novel as good as it is massive, the first of two Rain Wilds Chronicles...Hobb continues to occupy a perch at or near the top among contemporary fantasists. This book is imaginative, literate, and compassionate from first page to last." — Booklist (starred review)
"A satisfying story" — The News-Star (Monroe, LA) on DRAGON HAVEN
"The Soldier Son [trilogy] can be read as a political satire on American military aggression, but on a more personal level it is profoundly perceptive about the challenge faced by the honorable, brave and good. Nevarre is a true hero." — London Times
"Full throttle…[a] thrilling conclusion…Hobb's writing unfurls here with muscular and self-assured bravado, the characters fascinating and three-dimensional." — Realms of Fantasy Magazine on RENEGADE'S MAGIC
"[W]e suspend disbelief with complete abandon as the pages turn and turn...Robin Hobb is one of the most important writers in 21st century fantasy." — Contra Costa Times on RENEGADE'S MAGIC
"Real-life resonance gives the story extra depth…Bring on the next installment." — Kirkus Reviews on CITY OF DRAGONS
"[A]n engaging tale with fully realized characters that already feel like friends." — Las Vegas Review Journal on CITY OF DRAGONS
Harper Voyager, 9780061561696, 416pp.
Publication Date: January 29, 2013
About the Author
Robin Hobb was born in California but grew up in Alaska. It was there that she learned to love the forest and the wilderness. She has lived most of her life in the Pacific Northwest and currently resides in Tacoma, Washington. She is the author of five critically acclaimed fantasy series: The Rain Wilds Chronicles (Dragon Keeper, Dragon Haven, City of Dragons, Blood of Dragons), The Soldier Son Trilogy, The Tawny Man Trilogy, The Liveship Traders Trilogy, and The Farseer Trilogy. Under the name Megan Lindholm she is the author of The Wizard of the Pigeons, Windsingers, and Cloven Hooves. The Inheritance, a collection of stories, was published under both names. Her short fiction has won the Asimov's Readers' Award and she has been a finalist for both the Nebula and Hugo awards.