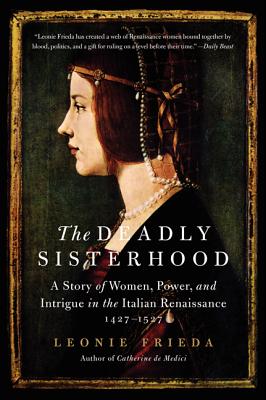 The Deadly Sisterhood
A Story of Women, Power, and Intrigue in the Italian Renaissance, 1427-1527
Paperback

* Individual store prices may vary.
Other Editions of This Title:
Hardcover (11/1/2012)
Paperback (7/11/2013)
Hardcover (4/2/2013)
Description
From Leonie Frieda, critically acclaimed biographer of Catherine de Medici, comes The Deadly Sisterhood: an epic tale of eight women whose lives—marked by fortune and poverty, power and powerlessness—encompass the spectacle, opportunity, and depravity of Italy's Renaissance.
Lucrezia Turnabuoni, Clarice Orsini, Beatrice d'Este, Isabella d'Este, Caterina Sforza, Giulia Farnese, Isabella d'Aragona, and Lucrezia Borgia shared the riches of their birthright: wealth, political influence, and friendship, but none were not exempt from personal tragedies, exile, and poverty.   
With riveting narrative, Leonie Frieda's The Deadly Sisterhood: A Story of Women, Power, and Intrigue in the Italian Renaissance, 1427–1527 brings to life a long-gone era filled with intrigue, corruption, and passion.
Praise For The Deadly Sisterhood: A Story of Women, Power, and Intrigue in the Italian Renaissance, 1427-1527…
"…scholarly yet very human story of some talented women who held surprising sway in the incredible clutter of city-states that composed Renaissance Italy…Richly researched and deeply complex - at times sufficient to bemuse as much as inform."
— Kirkus Reviews

"An alluring and worthy study of the powerful matriarchs at the helm of Italy's great Renaissance-era dynasties"
— Publishers Weekly

"Leonie Frieda presents Renaissance history in a fresh, new light…recounting the exploits of eight women whose actions and experiences often rocked the Italian Renaissance world."
— Booklist

"…fast-paced, vivid book…Frieda's lively, intimate descriptions are exciting and informative. Any reader interested in the Renaissance will find something to enjoy here…"
— Library Journal

"A fresh look at eight fascinating women and their far-reaching impact…Their stories take readers through the lifespan of the Renaissance from an eye-opening new perspective in the compulsively readable, intellectually rigorous account of an extraordinary century."
— Examiner.com

"Spirited…action-packed…full of bright, brash women…the contessas of Venice, Naples, Florence and Rome were more than happy to liquidate their rivals, command armies and do whatever it took to keep power firmly in their silk-gloved grasp."
— Daily Mail (London)

"A torrent of poisoned daggers, ruthless politics and sexual intrigue…An interesting introduction to the turbulent back story to all those serenely smiling portraits"
— Sunday Times (London)

"A wide-ranging historical narrative about the women and power struggles that dominated Italy in the late 15th and early 16th centuries"
— The Spectator

"Leonie Frieda has created a web of Renaissance women bound together by blood, politics, and a gift for ruling on a level before their time."
— Daily Beast

"A more inclusive history that points to the talents and strengths of women...Riveting."
— Providence Journal
Harper Perennial, 9780061563201, 464pp.
Publication Date: April 8, 2014
About the Author
Leonie Frieda is the author of a bestselling biography of Catherine de Medici and The Deadly Sisterhood: A Story of Women, Power and Intrigue in the Italian Renaissance. She lives in London.
or
Not Currently Available for Direct Purchase