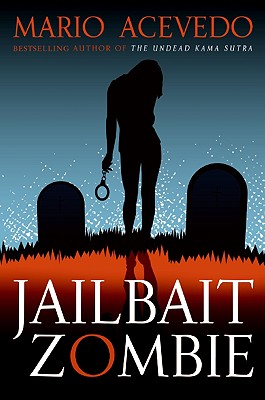 Jailbait Zombie (Paperback)
Eos, 9780061567148, 353pp.
Publication Date: February 24, 2009
Description
" Acevedo] manages to update vampire lore in clever and imaginative ways."
--El Paso Times If you haven't yet encountered Gulf War veteran-turned-vampire private eye Felix Gomez, then now is the time Jailbait Zombie--the fourth in author Mario Acevedo's outrageously original dark fantasy p.i. series--pits the undead against the living dead, as vampires meet zombies for a no-holds-barred beatdown. As dark, sexy, funny, and endearingly strange as Acevedo's previous vampiric excursions--Nymphos of Rocky Flats, X-Rated Bloodsuckers, and Undead Kama Sutra--Jailhouse Zombie is more of the top-shelf bloody madness that inspired Tim "Nuclear Jellyfish" Dorsey to comment that Mario Acevedo "is a very disturbed man--and I mean that in the absolute finest sense of the term."
Praise For Jailbait Zombie…
Fans of splattery Hollywood-style horror will have fun with this tale of violence and mayhem.
-Publishers Weekly

"Acevedo has proven once again that he is a very disturbed man—and I mean that in the absolute finest sense of the term."
-Tim Dorsey

"Acevedo's vampire comedy provides plenty of chuckles, particularly in its exciting final wrap-up, which leaves an opening for further Felix adventures."
-Booklist (starred review)

"The hero of this whodunit is an Iraqi Freedom soldier turned vampire turned gumshoe. The plot tests credulity here and there, but the snappy dialogue (pun intended), the pace and the porn stars (supernatural and otherwise) who populate the book more than compensate."
-Playboy

"The Nymphos of Rocky Flats is a witty, fast-paced, detective tale that also manages to update vampire lore in clever and imaginative ways."
-El Paso Times

"The Nymphos of Rocky Flats is a sassy, fast, fun read, and the mystery wraps up nicely."
-Boulder Daily Camera

"Warning: The author of this book must be a vampire, because he had me hypnotized from page one. I defy anyone to read the first chapter of Acevedo's The Nymphos of Rocky Flats and not fall under its spell. Vampire P.I. Felix Gomez is irresistibly entertaining."
-Rick Riordan, Edgar Award winning author of Mission Road

"Witty, fast-paced . . . manages to update vampire lore in clever and imaginative ways."
-El Paso Times

"Deliciously unique. A smooth combination of Anne Rice and Michael Connelly, with a generous portion of Dave Barry. Loaded with thrills, sex, violence, and laughs, both mystery fanactics and horror lovers will find plenty to love with this page-turning debut. Acevedo is a writer to watch!"
-JA Konrath, author of Bloody Mary
Advertisement