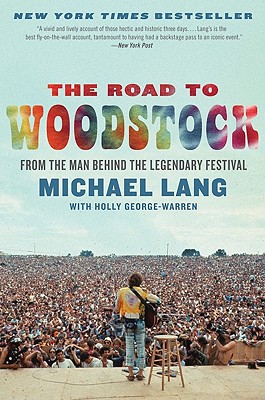 The Road to Woodstock (Paperback)
Ecco, 9780061576584, 352pp.
Publication Date: June 22, 2010
Other Editions of This Title:
Compact Disc (3/20/2018)
MP3 CD (3/20/2018)
* Individual store prices may vary.
Description
"[A] vivid and lively account of those hectic and historic three days….The best fly-on-the-wall account, tantamount to having had a backstage pass to an iconic event."
—New York Post
Celebrate the 50th Anniversary of Woodstock with the definitive book on the festival.
The Woodstock music festival of 1969 is an American cultural touchstone, and no book captures the sights, sounds, and behind-the-scenes machinations of the historic gathering better than Michael Lang's New York Times bestseller, The Road to Woodstock. USA Today calls this fascinating, entertaining, and blissfully nostalgic look back, "Invaluable." In The Road to Woodstock, Michael Lang recaptures the magic for the generation that was there…and for the generations that followed.
About the Author
Michael Lang has produced festivals in East Berlin, the concert at the fall of the Berlin Wall in 1989, Woodstock '94, and Woodstock '99, among many other events worldwide. He is the head of the Michael Lang Organization, producing live events; is a partner in Woodstock Ventures; and, with Sam Nappi, runs Harmony Entertainment, producing film and theater. He lives in upstate New York.
Praise For The Road to Woodstock…
"Lang, one of Woodstock's organizers, provides details about how the production was put together and kept running. His account is interspersed with interviews with performers and others, including, perhaps most interestingly, Hugh Romney, aka Wavy Gravy, of the Hog Farm, whose group provided order, reassurance and, as we know, granola."
— New York Times Book Review, Paperback Row

"At Woodstock I saw a collective adventure representing something that still holds true today. When the Berlin Wall came down, Woodstock was there. When Mandela was liberated, Woodstock was in there. When we celebrated the year 2000, Woodstock was in there. Woodstock is still every day."
— Carlos Santana

"Reading this inimitable account of how Woodstock really came to pass makes the Manhattan Project seem like whippin' up one of my mom's custard pies....[This book] he and Holly George-Warren will knock you out and once again make you wish that you were there."
— Terry Stewart, President of the Rock and Roll Hall of Fame and Museum

"Totally rocking...what elevates this book above the level of most rock memoirs is the inclusion of voices other than Lang's—including scenesters and key Woodstock players like Jimi Hendrix, Roger Daltrey, Pete Townshend, Jerry Garcia….Well-written, informative and tons of fun."
— Kirkus Reviews

"Invaluable…[Lang] wraps up his cinematic reminiscing by taking a seminal thread from Woodstock's history—Jimi Hendrix's breathtaking interpretation of The Star Spangled Banner—and linking its poignancy to what some have called the 21st century Woodstock moment: the day Barack Obama became the first black president."
— USA Today

"The shelf of books about Woodstock is groaning, but Lang's is the best fly-on-the-wall account, tantamount to having had a backstage pass to an iconic event."
— New York Post

"There are plenty of juicy tidbits in "The Road to Woodstock," starting with the compelling opening of Lang sharing his backstage view of Hendrix's sizzling performance at the rain-soaked end of the festival."
— Richmond Times-Dispatch