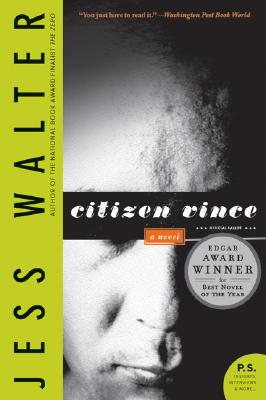 Citizen Vince
Paperback

* Individual store prices may vary.
Description
From the highly acclaimed new crime novelist: a story of witness protection, petty thievery, local politics, and murder—set against the turbulent backdrop of the 1980 presidential election
It's the fall of 1980, the last week before the presidential election that pits the downtrodden Jimmy Carter against the suspiciously sunny Ronald Reagan. In a seedy suburban house in Spokane, a small-time crook formerly from New York, Vince Camden, pockets his weekly allotment of stolen credit cards and heads off to his witness-protection job at a donut shop. A the shop he takes a shine to a regular named Kelly, who works for a local politician. Somehow he finds himself and the politician in a parking lot at three in the morning, giving the slip to a couple of menacing thugs. And then he crosses the path of a young detective—and discovers his credit-scam partner, lying dead in his passport-photo office with a Cheerio-size bullet-hole in his head. No one writing crime novels today tells a story or sketches a character with more freshness or elan than Jess Walter. Citizen Vince is his funniest and grittiest book yet.
Praise For Citizen Vince…
"(An) immensely entertaining crime thriller and wry social commentary." — Chicago Tribune
"Rich in robust characters ad wry dialogue, with agile prose, a big heart and a finely tuned plot." — Seattle Times
"A splendidly entertaining, thoughtful book ... Jess Walter continues to impress." — Sunday Telegraph
"What makes Walter's third novel so enjoyable is Vince, a flawed but sympathetic character trying to find redemption." — Library Journal
1st Place, General Trade-Jacket, New York Book Show —
Harper Perennial, 9780061577659, 320pp.
Publication Date: June 17, 2008
About the Author
Jess Walter is the author of six novels, including the bestsellers Beautiful Ruins and The Financial Lives of the Poets, the National Book Award finalist The Zero, and Citizen Vince, the winner of the Edgar Award for best novel. His short fiction has appeared in Harper's, McSweeney's, and Playboy, as well as The Best American Short Stories and The Best American Nonrequired Reading. He lives in his hometown of Spokane, Washington.