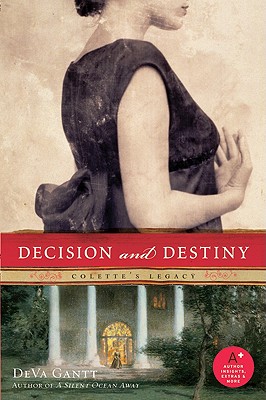 Decision and Destiny (Paperback)
Colette's Legacy
William Morrow Paperbacks, 9780061578250, 400pp.
Publication Date: April 7, 2009
* Individual store prices may vary.
Description
A spellbinding saga of a remarkable american family . . .
The beautiful, frail Colette Duvoisin trusted governess Charmaine Ryan with her worries, her dreams, and the care of her beloved children. But now Colette is gone—leaving her three young ones devastated . . . and the house of Duvoisin in turmoil.
To her children's horror, their father, the enigmatic Frederic Duvoisin, weds his mistress and sister-in-law, Agatha, soon after their mother's untimely death. A scheming and dangerous adversary, Agatha has no love for her predecessor's offspring, ruthlessly wielding her newly won power while guarding her own dark secrets. Meanwhile, a rivalry between Colette's stepsons—suave Paul and cynical John—is reignited, drawing battle lines among family, friends, and servants. When Frederic suddenly emerges from his self-imposed isolation, he touches off a struggle for patriarchal supremacy that threatens to lay the entire Duvoisin empire to waste.
At the center of the storm is innocent Charmaine, who must come to terms with shattering truths about the family she once believed she knew—and decide who among them deserves her admiration, her derision, her devotion . . . and her heart.
About the Author
DeVa Gantt is the pseudonym for coauthor sisters Debra and Valerie Gantt, career women, homemakers, and mothers. They are the authors of two previous books in the Duvoisin family saga, A Silent Ocean Away and Decision and Destiny.
What is the significance of the title. Discuss ways in which both decisions and destiny each play a role in the characters behaviors.
Although the character of Colette has died, her legacy also determines the fate of many of the Duvoisin family—especially Frederic. Discuss ways in which Colette's life and fate still influence the family itself.
What are Frederic's true motives? He appears contrite, but he continues to provoke members of the family, especially John.
Humor is effectively employed throughout this novel.Discuss ways in which it lessens the turmoil of the book.
There are elements of the supernatural and indications of a ghost wandering the house. Do you believe that Colette's spirit is still haunting the home? Do you personally believe in the presence of the supernatural?
Decision and Destiny is part of a trilogy—Do you like novels with sequels and connecting characters or would you have preferred that this was one long novel?