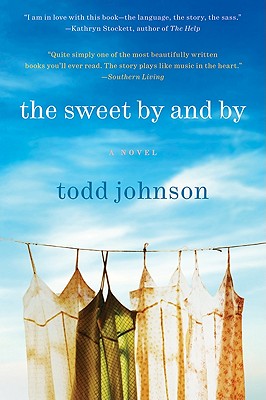 The Sweet by and by (Paperback)
William Morrow & Company, 9780061579516, 321pp.
Publication Date: April 1, 2010
Description
Meet five North Carolina women who are about to change the way you think about friendship. For Rhonda, a gritty, fun-loving hairdresser in tight jeans, the sights and smells of Ridgecrest Nursing Center are depressing. But before she can change her mind about working there, two residents glue themselves to her: Margaret, droll and whip-smart, with a will of iron that never fails her even when her body does, and Bernice, an avid country music fan who is rarely lucid. Together with Lorraine, their church-going, God-questioning nurse, and her daughter, April, bright and ambitious, they lock arms in courage and humor for a journey that speaks to us all--of how we live and die, of how we love and forgive.
Praise For The Sweet by and by…
"I am in love with this book -- the language, the story, the sass. Five women bickering, judging, loving, growing old together. You won't stop laughing, even when your heart is hurting. Keep a pencil close -- you'll be underlining all your favorite, funny lines."
-Kathryn Stockett, The Help

"The women of The Sweet By and By have found a devoted muse in Todd Johnson."
-Alice Walker

"Read The Sweet By and By…Johnson explores the lives of five Southern women who are unexpectedly connected to each other. While most of the action takes place in a nursing home, their stories never fall short of livelihood. Think of it as Steel Magnolias meets The Golden Girls."
-Real Simple, "Entertainment Picks"

"Give Todd Johnson an "A"…He made me laugh and cry…Johnson's...five women...are as convincing as Reynolds Price's Kate Vaiden and Allan Gurganus' Lucy Marsden. From the first page they step into your life and start talking pure Southern music."
-Raleigh News & Observer

"Bittersweet and often humorous...Johnson has a sure ear for Southern speech...the underlying message of the power of love and friendship resonates, as does its depiction of the way in which people leading unremarkable lives can have a tremendous impact on those around them."
-Publishers Weekly

"Heartfelt and stunning…Mr. Johnson paints a lush portrait of Southern life in vivid detail with clarity and wit. You will be riveted by the story of a group of unlikely friends, five North Carolina women bonded by their shared histories, passions and secrets. It's a genuine page turner."
-Adriana Trigiani

"Save a place for this debut novel—essentially a hymn of praise for licensed practical nurses (LPNs)…Johnson does a fine job of illustrating the rich inner lives of those imprisoned by failing mental or physical health…Strongly recommended."
-Library Journal

"Nothing short of amazing . . . I had a whole new perspective on both living and dying after reading this stunning novel."
-Birmingham News

"Packed with so much poignancy readers might want to keep tissues handy…heartfelt…realistically portrays the challenges the elderly face and captures the authentic voices of these five very different women. This is a novel not to be missed."
-Las Vegas Review Journal

"Gentle, sensitive...sometimes funny, occasionally sad, and ultimately life-affirming… Johnson has done an admirable job of making each woman distinct and memorable…the reader will have a clear picture of each in mind—and will feel fond of them..a fine debut. I look forward to seeing what Johnson writes next."
-Winston-Salem Journal

"Poignant."
-Raleigh News & Observer

"My favorite book of the past few months . . . As Johnson reveals these women to readers, you discover that he has captured the very souls of women we all know, respect and love."
-Greensboro News & Record

"Fans of Fried Green Tomatoes will fall headlong into this humorous and heartfelt story . . .The cast handles the profusion of drama, tragedy, humor, and romance with some of the best narration listeners will find anywhere."
-AudioFile Magazine, on the audio edition
Advertisement