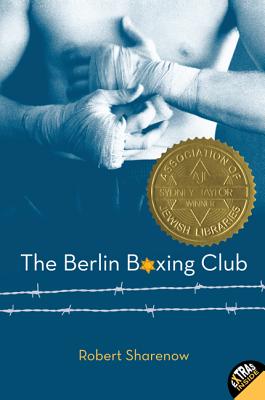 The Berlin Boxing Club
Paperback

* Individual store prices may vary.
Description
Sydney Taylor Award-winning novel Berlin Boxing Club is loosely inspired by the true story of boxer Max Schmeling's experiences following Kristallnacht. Publishers Weekly called it "a masterful historical novel" in a starred review.
Karl Stern has never thought of himself as a Jew; after all, he's never even been in a synagogue. But the bullies at his school in Nazi-era Berlin don't care that Karl's family doesn't practice religion. Demoralized by their attacks against a heritage he doesn't accept as his own, Karl longs to prove his worth.
Then Max Schmeling, champion boxer and German hero, makes a deal with Karl's father to give Karl boxing lessons. A skilled cartoonist, Karl has never had an interest in boxing, but now it seems like the perfect chance to reinvent himself.
But when Nazi violence against Jews escalates, Karl must take on a new role: family protector. And as Max's fame forces him to associate with Nazi elites, Karl begins to wonder where his hero's sympathies truly lie. Can Karl balance his boxing dreams with his obligation to keep his family out of harm's way?
Includes an author's note and sources page detailing the factual inspirations behind the novel.
Praise For The Berlin Boxing Club…
★ "Sharenow delivers a masterful historical novel." — Publishers Weekly (starred review)
★ "A story with well-drawn, complex characters, gripping history, and intense emotion." — School Library Journal (starred review)
★ "A fine one-two punch with the author's previous powerful work, My Mother the Cheerleader." — Kirkus Reviews (starred review)
"Readers will be drawn [in] by the sports detail and by the close-up narrative of the daily oppression." — ALA Booklist
"A meaty, readable account of the perils and pitfalls of daily life in Nazi Germany." — The Horn Book
"This beautifully written coming-of-age story puts a human face on both the victims and the tormentors during the holocaust while revealing on a national level the political importance and implications of the historic match between black boxer Joe Louis and German hero Max Schmeling." — Voice of Youth Advocates (VOYA)
"I held my breath as Karl Stern, fierce and thoughtful, fought his way through the Nazi Wolf Pack and his own insecurities to save his family and become a boxer and an artist." — Robert Lipsyte, author of THE CONTENDER and CENTER FIELD
"Set in Berlin just after Kristallnacht, this isn't just a story about the terrible events in Nazi Germany, it's also a story about identity, family, and growing up" (in the article "11 Children's and YA Books to Help Remember the Holocaust'). — Brightly
Balzer + Bray, 9780061579707, 432pp.
Publication Date: October 23, 2012
About the Author
Robert Sharenow is an award-winning writer and television producer. He is the author of the middle-grade novel The Girl in the Torch, as well as the teen novels My Mother the Cheerleader and The Berlin Boxing Club. Since its publication in 2012, The Berlin Boxing Club has been named a Sydney Taylor Book Award winner and an Amelia Walden Award finalist, and has received multiple received multiple starred reviews, as well as a spot on ALA's Best Books for Young Adults list. The novel has been published in several countries and languages and is perennially taught in high school curriculums in the United States and around the world. Sharenow lives in New York with his wife and two daughters.