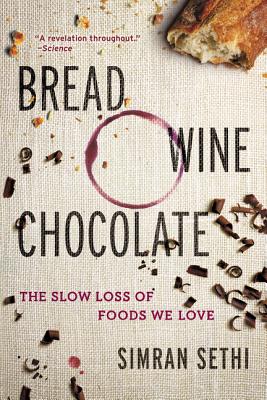 Bread, Wine, Chocolate
The Slow Loss of Foods We Love
Paperback

* Individual store prices may vary.
Other Editions of This Title:
Digital Audiobook (11/9/2015)
Compact Disc (11/10/2015)
Compact Disc (11/10/2015)
Hardcover (11/10/2015)
Description
Award-winning journalist Simran Sethi explores the history and cultural importance of our most beloved tastes, paying homage to the ingredients that give us daily pleasure, while providing a thoughtful wake-up call to the homogenization that is threatening the diversity of our food supply.
Food is one of the greatest pleasures of human life. Our response to sweet, salty, bitter, or sour is deeply personal, combining our individual biological characteristics, personal preferences, and emotional connections. Bread, Wine, Chocolate illuminates not only what it means to recognize the importance of the foods we love, but also what it means to lose them. Award-winning journalist Simran Sethi reveals how the foods we enjoy are endangered by genetic erosion—a slow and steady loss of diversity in what we grow and eat. In America today, food often looks and tastes the same, whether at a San Francisco farmers market or at a Midwestern potluck. Shockingly, 95% of the world's calories now come from only thirty species. Though supermarkets seem to be stocked with endless options, the differences between products are superficial, primarily in flavor and brand.
Sethi draws on interviews with scientists, farmers, chefs, vintners, beer brewers, coffee roasters and others with firsthand knowledge of our food to reveal the multiple and interconnected reasons for this loss, and its consequences for our health, traditions, and culture. She travels to Ethiopian coffee forests, British yeast culture labs, and Ecuadoran cocoa plantations collecting fascinating stories that will inspire readers to eat more consciously and purposefully, better understand familiar and new foods, and learn what it takes to save the tastes that connect us with the world around us.
Praise For Bread, Wine, Chocolate: The Slow Loss of Foods We Love…
"[Simran Sethi] looks at ways in which monoculture and an increasingly standardized global diet put food systems in peril and leave crops vulnerable to blight and climate change."
— Wall Street Journal

"In Bread, Wine, Chocolate: The Slow Loss of Foods We Love, Sethi describes how, in recent years, environmental and economic forces have decreased biodiversity and threatened the existence of some of our favorite foods and beverages."
— Boston Globe

"Our tables … are never really of, or for, one, as Sethi elegantly shows us."
— NPR

"Bread, wine, chocolate-three things many of us refuse to live without. But, as Simran Sethi tells us in her new book, Bread, Wine, Chocolate: The Slow Loss of Foods We Love, we might have to."
— Acquired Taste

"Read this wonderful book and you will become immersed in the intricate worlds of no less than six (delicious) foods and drinks. It is about our relationships with the life forms that sustain us—and how we might learn to approach those relationships with far more love, compassion, and good taste."
— Naomi Klein, New York Times bestselling author of This Changes Everything and The Shock Doctrine

"Simran Sethi's passionate book on food and biodiversity reminds us how healing food can be. The world is on our plate."
— Deepak Chopra, M.D.

"A powerful reminder that we can eat in ways that don't cause damage to the planet or its poorest people--and that can delight us, not just fill us up. Don't read it on an empty stomach!"
— Bill McKibben, author of Deep Economy

"A passionate plea to save and restore the things most precious about our food—its myriad flavors and its connection with nature. As global economic forces slowly squeeze the uniqueness out of what we eat, Simran Sethi explores the delicate culinary delights that offer hope, and deliciousness, for the future."
— John McQuaid, Pulitzer Prize-winning journalist and author of Tasty: The Art and Science of What We Eat

"A stirring call to arms for anyone who loves food!"
— Andrea Reusing, James Beard award-winning chef and author of Cooking in the Moment: A Year of Seasonal Recipes

"Should be required reading for culinary students, journalists, scholars and citizens who care about what they put into their mouths and what we're doing to Mother Earth. Sethi is the kind of writer who can coat the bitter pill in honey and we all just swallow and say thank you."
— Linda West Eckhardt, James Beard award-winning cookbook author, Editor/Founder of Everybody Eats News

"In this illuminating and impactful book, Simran Sethi sheds light on the dwindling diversity of our diets and our landscapes through the stories of our most beloved tastes. Bread, Wine, Chocolate calls on all of us to cherish—and thus preserve—the world's endangered flavors."
— Dan Barber, chef/co-owner of Blue Hill and New York Times bestselling author of The Third Plate

"Read this and you will understand that cuisine is how we kiss the world. There is more good news: it kisses back."
— Paul Hawken, New York Times bestselling author of Natural Capitalism and Blessed Unrest

"By turns explorer and explainer, Simran Sethi conducts a thoughtful and heartfelt tour of humanity's most beloved tastes—and the threats that could extinguish them forever."
— Michael Brune, executive director, Sierra Club

"Bread, Wine, Chocolate is for anyone who has ever longed for a richer understanding of the foods you love, and for greater awareness of what it takes to bring them to you."
— Kaelyn Riley, Experience Life Magazine

"In a new book, author Simran Sethi argues that we are facing one of the most radical shifts in food ever."
— Smithsonian Magazine

"[Sethi] writes with a deep understanding of pleasure and taste to convey her urgent message – we must make uncompromising, purposeful choices when it comes to what we eat before it's too late!"
— Alice Waters, chef, author and the proprietor of Chez Panisse

"...Simran Sethi's new book Bread, Wine, Chocolate: The Slow Loss of Foods We Love, an excellent look at loss of biodiversity through something that we all know, and love, well: food."
— Paste Magazine

"Simran Sethi... argues convincingly about the deep importance of these humble foods that human beings have been imbibing for millennia."
— Civil Eats

"Bread, Wine, Chocolate is full of wonderfully geeky bits of science, including an excellent section on how memory and culture influences our perception of taste. But Sethi's friendly, welcoming tone makes serious topics digestible and pleasurable."
— Lisa Ko, author of The Leavers
HarperOne, 9780061581083, 352pp.
Publication Date: October 18, 2016
About the Author
Simran Sethi is a journalist and an associate at the University of Melbourne's Sustainable Society Institute and the former host of the PBS Quest series on science and sustainability. Her work has appeared on NBC Nightly News, PBS, Oprah, MSNBC, the History Channel, and NPR. She was the national environmental correspondent for NBC News, the anchor/writer of Sundance Channel's first dedicated environmental programming, and the host of the Emmy Award-winning PBS documentary A School in the Woods.