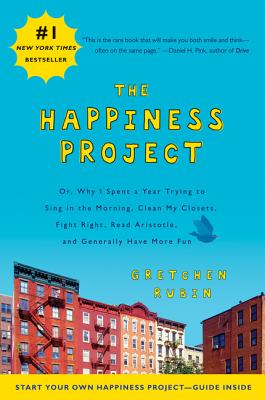 The Happiness Project
Or, Why I Spent a Year Trying to Sing in the Morning, Clean My Closets, Fight Right, Read Aristotle, and Generally Have More Fun
Paperback

* Individual store prices may vary.
Other Editions of This Title:
Digital Audiobook (12/28/2009)
Paperback (12/29/2015)
Compact Disc (8/17/2015)
Description
New York Times #1 Bestseller
More Than 1 Million Copies Sold
Updated With New Material
"This book made me happy in the first five pages."
—AJ Jacobs, author of The Year of Living Biblically: One Man's Humble Quest to Follow the Bible as Literally as Possible
Award-winning author Gretchen Rubin is back with a bang, with The Happiness Project. The author of the bestselling 40 Ways to Look at Winston Churchill has produced a work that is "a cross between the Dalai Lama's The Art of Happiness and Elizabeth Gilbert's Eat, Pray, Love." (Sonya Lyubomirsky, author of The How of Happiness: A Scientific Approach to Getting the Life You Want) In the vein of Julie and Julia, The Happiness Project describes one person's year-long attempt to discover what leads to true contentment. Drawing at once on cutting-edge science, classical philosophy, and real-world applicability, Rubin has written an engaging, eminently relatable chronicle of transformation.
Praise For The Happiness Project: Or, Why I Spent a Year Trying to Sing in the Morning, Clean My Closets, Fight Right, Read Aristotle, and Generally Have More Fun…
"Aided by her formidable intelligence and willingness to try anything, she spent a year road-testing every theory about happiness she could get her hands on, using her own life as the road." — Time
"Happiness is contagious. And so is The Happiness Project. Once you've read Gretchen Rubin's tale of a year searching for satisfaction, you'll want to start your own happiness project and get your friends and family to join you. This is the rare book that will make you both smile and think—often on the same page." — Daniel H. Pink, author of A Whole New Mind
"Rubin had learned that there was a close correlation between habits and happiness, so she figured out how we form them, use them, and change them. Once I came to understand habits as harnessing our own laziness—making a habit frees you from decision-making, which you can use to your advantage—my relationship to them changed permanently."  — New Yorker
"Lays out life's essential goals… serves as a kind of detailed instruction manual on how to achieve them." — New York Times Book Review
"If anyone can help us stop procrastinating, start exercising or get organized, it's Gretchen Rubin. The happiness guru takes a sledgehammer to old-fashioned notions about change." — Parade
"Gretchen Rubin combines deep research and observations from her own life to explain how habits emerge and—more important—how they can change. It's indispensable for anyone hoping to overhaul how they (almost unthinkingly) behave." — Charles Duhigg, The Power of Habit
"Gretchen Rubin is a writer after my own heart—seriously brilliant, very warm, and funny. I think she's amazing." — Anne Lamott, Bird by Bird and Help, Thanks, Wow
"Gretchen Rubin's superpower is curiosity… Weaving together research, unforgettable examples, and her brilliant insight, Better Than Before is a force for real change."  — Brené Brown, Dare to Lead and Daring Greatly
"Loaded with practical solutions and impeccable research. Rubin is also a fine writer, and her enthusiasm for improving lives is contagious."  — Harlan Coben
"With her characteristic mix of delightful charm, thoughtful research, and insightful advice… Gretchen Rubin shows how to add fun, joy, and harmony to your home life." — Susan Cain, Quiet: The Power of Introverts in a World That Can't Stop Talking
Harper Paperbacks, 9780061583261, 336pp.
Publication Date: March 1, 2011
About the Author
I'm the author of the New York Times bestsellers "The Happiness Project," "Happier at Home" and "Better Than Before." I write about my experiences as I test-drive the wisdom of the ages, current scientific studies, and lessons from popular culture about happiness, habits, and human nature. My next book will hit the shelves in summer 2017: "The Four Tendencies: The Surprising Truth about the Four Hidden Personality Types That Drive Everything We Do."
Find out your Tendency—are you an Upholder, Questioner, Obliger, or Rebel?—when you take the free quiz at GretchenRubin.com.
Subscribe to my award-winning weekly podcast "Happier with Gretchen Rubin" (more than 1 million downloads each month) and hear my sister and I discuss strategies and tips for how to make your daily life happier. I also created an app to help people harness the power of the Four Tendencies. Learn more at BetterApp.us or search the app store for "Better Gretchen Rubin."
My previous books include a bestselling biography of Winston Churchill, "Forty Ways to Look at Winston Churchill," and one of John Kennedy, "Forty Ways to Look at JFK." My first book, "Power Money Fame S..: A User's Guide," is social criticism in the guise of a user's manual. I wrote "Profane Waste" in collaboration with artist Dana Hoey. I've also written three dreadful novels that are safely locked away in a drawer.

Before turning to writing, I had a career in law. A graduate of Yale and Yale Law School, I clerked for Justice Sandra Day O'Connor and was editor-in-chief of the Yale Law Journal. I live in New York City with my husband and two daughters.
Gretchen argues throughout The Happiness Project that striving to be happy is a worthy, not selfish, goal. Do you agree? Do you think that Gretchen was right, or not, to devote so much time and attention to her own happiness? Do you spend much time thinking about your happiness?
The Happiness Project is packed with quotations. Which quotation resonated most with you? Do you have a quotation that has been particularly meaningful in your own life—that you've included in your email signa–ture or taped to your desk, for example?
One of Gretchen's resolutions is to "Imitate a spiritual master." Do you have a spiritual master? Who is it? Gretchen was surprised to realize that St. Therese of Lisieux was her master. Do you know why you identify with your spiritual master?
Gretchen observes that "Outer order contributes to inner calm," and many of her resolutions are aimed at clutter-clearing. Do you agree that clutter affects your happiness?
One of Gretchen's main arguments is that "You're not happy unless you think you're happy," and she spends a lot of time thinking about her happiness. However, many important figures have argued just the opposite; for example, John Stuart Mill wrote, "Ask yourself whether you are happy, and you cease to be so." What do you think? Does striving for happiness make you happier? Or does it make happiness more elusive?
Did reading this book make you want to try one of the resolutions? Which one?
A criticism of The Happiness Project might be that writing a "year of…" book is gimmicky. Did you like the "experiment for a year" approach, or did it strike you as a cliché? Why do you think so many authors are drawn to this structure?
Many memoirs recount the author's struggle to be happiness in the face of a major challenge like cancer, divorce, an unhappy childhood, massive weight loss, and the like. In the book's opening, Gretchen admits that she has always been pretty happy. Did you find her reflections on happiness helpful, nevertheless? Or do you think it's more valuable to read an account by someone facing more difficulties?
Gretchen writes, "Everyone's happiness project will be different." How would your happiness project be different from Gretchen's? How might it be the same?
What was the one most valuable thing you learned from The Happiness Project about happiness—for yourself?
or
Not Currently Available for Direct Purchase