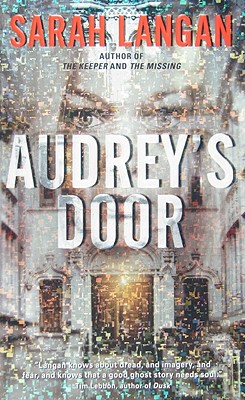 Audrey's Door
Mass Market

* Individual store prices may vary.
Description
"Sarah Langan is an audaciously terrifying storyteller, and Audrey's Door practically hums with frantic energy and hair-raising tension."
—New York Times bestselling author Tess Gerritsen

Rosemary's Baby meets The Shining behind Audrey's Door—a masterwork of psychological suspense and supernatural terror from the acclaimed author of The Keeper and The Missing. Ramsey Campbell, Matthew Pearl, and David Morrell are among the ever-growing legion of fans of this Bram Stoker Award-winning writer who Peter Straub says, "combines a genuinely poetic sensibility with a taste for horror's most bravura excesses." Reviewers across the country have already compared Sarah Langan to H.P. Lovecraft, Edgar Allan Poe, and Stephen King and her brilliantly, chillingly original Audrey's Door solidifies her standing as one of America's most exciting new masters of contemporary dark fantasy.
Praise For Audrey's Door…
"Sarah Langan is one of the bright new hopes of horror — and intelligent, literary, ambitious author capable of scaring the ever-loving crap out of her readers."
— Romantic Times BOOKclub

"Langan's idiosyncratic blending of supernatural horror and character-driven, psychological insight proves captivating and pleasurably bone-chilling."
— Booklist

"Believable characters, deft writing, and an intriguing take on the haunted–house tale."
— Romantic Times BOOKclub

"A genuine creepfest that recalls, in the best way possible, the early work of Stephen King….Langan has the control of a pro….this solid sophomore effort proves that the uncanny ability of The Keeper to burrow into readers' heads and stay there was no fluke."
— Publishers Weekly (starred review)

"...[I]nnovative, sharp, and absolutely chilling..."
— Brian Keene, Bram Stoker Award winning author of Ghoul and Dead Sea

"[THE MISSING is] as engrossing as a dagger poised at one's throat."
— J.C. Patterson

"[THE KEEPER] will scare the heck out of you."
— 4 stars! --Lindsay Hunter, OK! MAGAZINE

"[A] distinct and juicy flavor all its own. THE KEEPER begins what should be a very fruitful career."
— Peter Straub, New York Times bestselling author of IN THE NIGHT ROOM

"...The new author on the block is definitely a keeper..."
— -Edward Bryant, Locus

"A beautiful, suspenseful novel... that sets out to do exactly what it should: scare the reader with a combination of well-crafted prose and page-turning velocity."
— Baltimore Sun

"A dark and bracingly bleak tale of supernatural terror. Its brooding atmosphere comes as much from the social and psychological as from the ghostly, and best of all, from the quality of the prose."
— Ramsey Campbell, author of SECRET STORY

"Akin to the more ambitious work of Stephen King...this effective debut promises great things to come."
— Publishers Weekly

"A subtle, bleak tone and well-drawn characters elevate this one above the pack."
— --Rue Morgue

"Deft and disturbing, THE KEEPER twists expectations into surreal surprises. Sarah Langan's tale of haunted lives and landscapes is hypnotic reading - an assured and impressive debut."
— Douglas E. Winter

"Assured...Langan's characters come brilliantly to life...this is horror on a big scale, akin to the more ambitious work of Stephen King...this effective debut promises great things to come."
— Publishers Weekly

"Echoes of Stephen King resound throughout Ms Langan's rich depiction of a mill town...the first fruits of a most promising career."
— Washington Times

"It's the only horror story I've read recently that finds adequate metaphors for the self-destructive properties of anger."
— New York Times Book Review

"THE KEEPER is a brilliant debut, heralding the arrival of a major talent. This disturbing, spooky novel is written by someone who knows about dread, and imagery, and fear, and who knows that a good ghoststory needs soul."
— Tim Lebbon, author of DUSK and BERSERK

"Sarah Langan's debut novel THE KEEPER kept me up, late into the night. Do I bear her a grudge? Of course not! I'm hoping for a whole shelf of novels by Langan, and many other sleepless nights."
— Kelly Link, author of MAGIC FOR BEGINNERS

...Combines a witches brew of toxic styles, mixing in bits of Stephen King, Lovecraft, Poe, and Peter Straub, then pours out a thoroughly nasty concoction all her own.
— Madison County Herald
Harper, 9780061624216, 432pp.
Publication Date: September 29, 2009
About the Author
Sarah Langan received her MFA in fiction writing from Columbia University. She studied with Michael Cunningham, Nicholas Christopher, Helen Schulman, Susan Kenney, and Maureen Howard, among others, all of whom have been instrumental to her work. The author of The Keeper and the Bram Stoker Award-winning The Missing, she is a master's candidate in environmental medicine at NYU and lives in Brooklyn, New York.
or
Not Currently Available for Direct Purchase