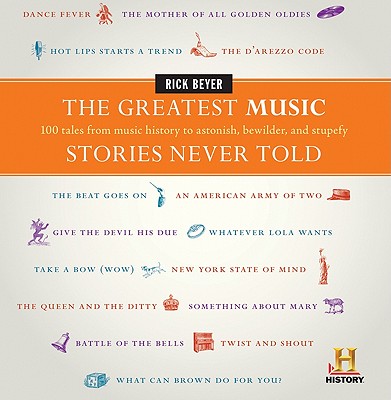 The Greatest Music Stories Never Told (Hardcover)
100 Tales from Music History to Astonish, Bewilder, and Stupefy (The Greatest Stories Never Told)
Harper, 9780061626982, 224pp.
Publication Date: June 7, 2011
* Individual store prices may vary.
Description
"Fullof tasty morsels.A delightful book to arm one for thenext dull cocktail party." —Chicago Tribune
RickBeyer, author of the highly successful History Channel series The GreatestStories Never Told returns with new historic tales from the world ofmusic—ennobling, entrancing and inevitably surprising stories of soaringgenius, tantalizing scandal, nefarious intrigue, and, above all, unbridledpassion for music. Perfect for fans of The Mental Floss History of theUnited States or Bill Bryson's Made in America, Beyer's GreatestMusic Stories Never Told is "history like you've never read itbefore." (The Tennessean)
About the Author
Rick Beyer is the author of the popular Greatest Stories Never Told book series, and an award-winning documentary filmmaker whose work has been seen on The History Channel, A&E, and National Geographic Channel. He is also an accomplished speaker who inspires and entertains audiences around the country. He lives with his wife in Lexington, Massachusetts.
Praise For The Greatest Music Stories Never Told: 100 Tales from Music History to Astonish, Bewilder, and Stupefy (The Greatest Stories Never Told)…
"An effortless summer read for the music lover."
— Houston Chronicle

"We picked up the book expecting to inflate our egos, reinforcing the myth that we know everything there is to know about music history. Short answer- we were wrong, very wrong."
— LA Weekly

"A little book you won't be able to put down."
— Florida Times-Union

"History doesn't have to be boring and author Rick Beyer proves it with this fun look at music."
— Rock Book Show

"Full of tasty morsels…A delightful book to arm one for the next dull cocktail party."
— Chicago Tribune

"History like you've never read it before…Amusing."
— The Tennessean

"100 stories you haven't heard will delight in knowing.…Lively, offbeat and surprising in quick-hit snippets."
— Denver Rocky Mountain News

"Surprising…the essentials of fascinating stories are here."
— Dallas Morning News