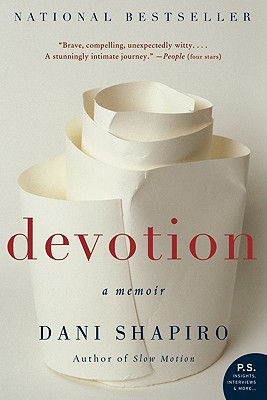 Devotion (Paperback)
A Memoir
Harper Perennial, 9780061628351, 272pp.
Publication Date: February 8, 2011
* Individual store prices may vary.
March 2010 Indie Next List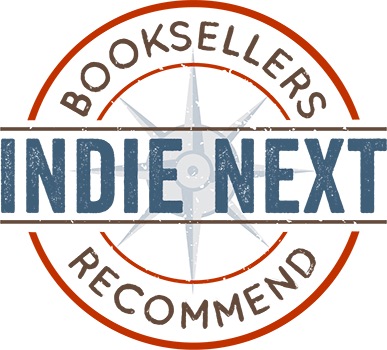 "Dani Shapiro's new memoir, Devotion, is a book to read, savor, and read again. It is the story of her inner journey as she tries to answer the fundamental questions of what makes a meaningful life. Both very personal and yet universal, Shapiro discusses her own Orthodox Jewish roots, her father's early death, her troubled relationship with her mother, and her subsequent exploration of her own beliefs as her young son raises questions for which she does not feel she has adequate answers. This books is a real keeper."
— Fran Keilty, Hickory Stick Bookshop, Washington Depot, CT
View the List
Description
Settling into the responsibilities and routines of adulthood, Dani Shapiro found herself with more questions than answers. Was this all life was—a hodgepodge of errands, dinner dates, e-mails, meetings, to-do lists? What did it all mean? Having grown up in a deeply religious and traditional family, Shapiro had no personal sense of faith, despite her repeated attempts to create a connection to something greater. Set adrift by loss—her father's early death, the life-threatening illness of her infant son, her troubled relationship with her mother—she recognized the challenge at the heart of her anxiety: What did she believe?
Devotion is a spiritual detective story, a literary excavation to the core of a life. At once poignant, funny, intensely personal, and completely universal, it is the story of a woman whose search for meaning in a constantly changing world ultimately leads her home.
Praise For Devotion: A Memoir…
"Brave, compelling, unexpectedly witty. . . . Stunningly intimate journey. . . . Thanks to Shapiro's excruciatingly honest self-examination and crystal clear, lyrical writing, the journey—as secular swami Steve Jobs once famously said—is indeed the reward."

"The one book that anyone over, say, 35 needs to read right now."

"I was immensely moved by this elegant book, which reminded me all over again that all of us-at some point or another-must buck up our courage and face down the big spiritual questions of life, death, love, loss and surrender."

"Dani Shapiro takes readers on an intense journey in search of meaning and peace. Her story of hope is eloquently told and unflinchingly honest."

"Dani Shapiro's novels and nonfiction are always rich in honesty and intelligence, about the psyche and lost hearts and families, about messes and shame and what calls us to transcend."

"This is a beautiful, wry and moving story about one intelligent woman's journey into her own life, to the corners where intelligence doesn't always help."

"I was on the verge of tears more than once in the course of Dani Shapiro's impeccably structured spiritual odyssey. But Devotion's biggest triumph is its voice: funny and unpretentious, concrete and earthy-appealing to skeptics and believers alike. This is a gripping, beautiful story."
Near the beginning of Devotion, Dani Shapiro describes a feeling that nudges her awake at three o'clock in the morning. How would you describe this feeling? Is it anxiety? Panic? A spiritual crisis? Have you ever felt anything like this -- and if so, what do think causes it? For Dani, it's the beginning of the journey that becomes Devotion. Can a spiritual crisis also be an opportunity for a new beginning?
Are there other aspects of Dani's life and history that send her on this journey? All lives contain "before and after" moments. What are some of yours?
At the end of the first chapter, the energy worker asks Dani if she wants her father to stay, and Dani responds that yes, she would like him to stay. What do you think this means? How do our relationships with people who have passed away continue to inform and shape our lives? What does it mean to feel as if they are still "with us"?
Dani writes about her son Jacob's illness as an infant, and the way she found herself praying, even though she didn't know to whom she was praying-- or, if pressed, whether she even believed in God. Why do we often pray in extreme circumstances, even if we don't have a defined religious belief? How do we contend with the feeling that we can't protect our children?
Why do you think Dani and her family moved from New York City to rural Connecticut in the wake of the September 11 attacks? Do you think they would have left the city eventually, or was it a direct response to the events of 9/11?
Dani's upbringing in an Orthodox Jewish home certainly contributed to her need, as an adult, to search for meaning. At one point in Devotion, Dani's friend, the Buddhist teacher Sylvia Boorstein, responds to the question of why she complicates her Judaism with Buddhism, with "because I am complicated with it. I have too much background in it not to be." What does it mean to be "complicated" with where we come from? Do all religious backgrounds complicate us? What about being raised with no religious beliefs at all?
Dani's relationship with her mother was fraught and difficult, to say the least. In Devotion she writes about going with her mother to see a family therapist, who tells her, after a number of sessions, that there is "no hope" for the relationship. What does it mean, to give up on such a primal, fundamental relationship? Is such a thing ever advisable--or possible?
In Devotion, Dani quotes the Jungian psychoanalyist Carl Jung, who wrote: "Thoroughly unprepared, we take the step into the afternoon of life." Jung defines midlife as anyone over the age of (get ready for it!) thirty-five. What do you think he means by the word "unprepared"? Do think it's possible to prepare for momentous life passages? What are some of the tools you have discovered to help yourself move from one stage of life to another?
In the course of her journey, Dani meets and befriends three extraordinary teachers: a Buddhist, a Rabbi, and a Yogi. She doesn't search all over the world for them, but rather, has the experience that "when the student is ready, the teacher appears". What would you say are lessons that Dani learned from each one? How do we find the teachers in our own lives? How do we recognize them?
Dani writes that one of the most important lessons she learned during the years she was working on Devotion is that answers--such as they are--are often not found in one place. That it is possible to build a spiritual life, rather than simply be handed one. Her spiritual life today is a combination of a return to her heritage, along with the practices of yoga and meditation. What are the steps you can imagine taking toward building your own spiritual life, and how are these different from the steps Dani took?
When asked if she arrived at answers while undertaking the journey that became Devotion, Dani responded that she wasn't in search of answers--she was, in fact, wary of the whole idea of answers--but rather, wanted to live inside the questions. How would you define these questions, and what does it mean, to live inside them? Now, when Dani's young son asks her what she believes, what do you think she tells him?