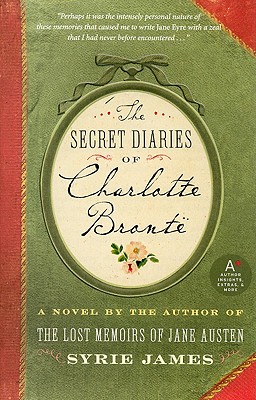 The Secret Diaries of Charlotte Bronte
Paperback

* Individual store prices may vary.
Other Editions of This Title:
Digital Audiobook (4/7/2011)
Description
"I have written about the joys of love. I have, in my secret heart, long dreamt of an intimate connection with a man; every Jane, I believe, deserves her Rochester."
Though poor, plain, and unconnected, Charlotte Bronte possesses a deeply passionate side which she reveals only in her writings—creating Jane Eyre and other novels that stand among literature's most beloved works. Living a secluded life in the wilds of Yorkshire with her sisters Emily and Anne, their drug-addicted brother, and an eccentric father who is going blind, Charlotte Bronte dreams of a real love story as fiery as the ones she creates.
But it is in the pages of her diary where Charlotte exposes her deepest feelings and desires—and the truth about her life, its triumphs and shattering disappointments, her family, the inspiration behind her work, her scandalous secret passion for the man she can never have . . . and her intense, dramatic relationship with the man she comes to love, the enigmatic Arthur Bell Nicholls.
"Who is this man who has dared to ask for my hand? Why is my father so dead set against him? Why are half the residents of Haworth determined to lynch him—or shoot him?"
From Syrie James, the acclaimed, bestselling author of The Lost Memoirs of Jane Austen, comes a powerfully compelling, intensely researched literary feat that blends historical fact and fiction to explore the passionate heart and unquiet soul of Charlotte Bronte. It is Charlotte's story, just as she might have written it herself.
Praise For The Secret Diaries of Charlotte Bronte…
"I DID NOT WANT THIS STORY TO END. For fans of biographical tales and romance, Syrie's story of Charlotte offers it all: longing and yearning, struggle and success, the searing pain of immeasurable loss, and the happiness of a love that came unbidden and unsought." — Jane Austens World
"Faithful to the writer's language, time, and place. This is BOUND TO FASCINATE admirers of the doomed Brontës." — Library Journal
"James takes the biography of Brontë and sketches it into a work of art … The availability of specific, passionate details is what gives the book its main pull … A CAN'T-MISS NOVEL for Brontë fans and historical fiction buffs alike." — Sacramento Book Review
"AN ENCHANTING LOVE STORY FOR CHARLOTTE BRONTE … 5 stars. An excellent combination of truth and conjecture that is a gratifying and magnetizing read! … I love [James's] reverent and precise representation of these beloved authors. Her graceful story telling is seamless and entertaining. I highly recommend this novel." — Austenesque Reviews
"You will never look at the Brontë sisters as mere writers again. The passion, intelligence, mystery, and perfection that these minds shared was astounding. Talk about a gifted family... you'll love it." — Once Upon A Romance
5 STARS. A meticulously researched account of Charlotte Bronte's life. The author … brought Charlotte to life as an intelligent, feisty, passionate woman. Charlotte's romance with Arthur Nicholls was also convincing. I liked how the author showed the source of many scenes and Rochester himself from Jane Eyre." — Library Thing
"James's extensive research . . . shows all throughout the book. . . ?The style imitates Charlotte Brontë's . . . [James's] non-linear structure works surprisingly well, as she places each flashback at the precise relevant moment … READERS WILL BE GLUED TO ITS PAGES FROM START TO FINISH." — Bronte Blog
"This reconstruction of Ms. Brontë's life is done with such creativity and realism that it's hard to imagine this is "not" what happened. . . By the end, the reader feels a real kinship with not only Charlotte, but all of the Brontës... A MUST BUY for Brontë-ites!" — Romance Junkies
"I REALLY THOROUGHLY, HEARTILY ENJOYED THIS CELEBRATION OF BRONTE'S LIFE and developing romance with Arthur Bell Nichols. Anyone who's ever peeked at a Bronte letter, or stole into Charlotte's Juvenalia, or re-read those parts in Jane Eyre, will find in this work not a stranger, but a welcoming friend." — A Fair Substitute For Heaven
"WRITTEN VERY MUCH IN THE STYLE OF THE HEROINE'S NOVELS... The story is well researched and closely follows the events of Charlotte's life, subtly interweaving her personalized view of the situations … Captures all the heartache and triumphs of the independent and creative spirit Charlotte Bronte must have been." — Romance Reviews Today
"Syrie James recreates how the poor, plain, and socially unconnected Ms. Brontë became a literary sensation. Based on extensive research, Brontë's deepest passions and desires, triumphs, and disappointments come to life... Anyone who is a fan of her work will welcome and enjoy this remarkable novel." — Bookviews
"AN AMAZING JOURNEY through the life of one of my very favorite authors... James weaves a beautiful story that … breathes life into a much loved and respected family in the literary world. Her language is flawless... The words could be Charlotte's own as the story unfolds." — Kaye's Book Reviews
"I WAS TRANSPORTED... The Bronte sisters were so removed from the world and yet so compelling to get to know. If you've ever been a Bronte reader, then I'd thoroughly recommend Syrie James's book. If you've never dabbled in Jane Eyre or Wuthering Heights, what's stopping you?" — Sonoma Country Life
William Morrow Paperbacks, 9780061648373, 512pp.
Publication Date: June 30, 2009
About the Author
Syrie James is the USA Today and Amazon bestselling author of thirteen novels including the critically acclaimed The Missing Manuscript of Jane Austen; Jane Austen's First Love; Forbidden; Dracula, My Love; The Secret Diaries of Charlotte Brontë; Nocturne; Runaway Heiress; Summer of Scandal; Duke Darcy's Castle; Floating on Air; Two Week Deal; and the international bestseller The Lost Memoirs of Jane Austen. An admitted Anglophile, Syrie loves all things British and 19th century. Her novels have hit many Best of the Year lists, won the Audie Romance Award, and been designated as Library Journal Editor's Picks and the Women's National Book Association's Great Group Read. Syrie lives in Los Angeles and is a member of JASNA, the Historical Novel Society, and the Writer's Guild of America.  Visit Syrie at www.syriejames.com.
Discuss the Bronte family dynamics. Describe Charlotte's relationship with her sisters, Emily and Anne. Why was Charlotte so devoted to her father? How did her relationship with her brother Branwell evolve and change over the years, and what influence did he have on her life?
What secrets did Charlotte and her siblings each keep, and why? Whose secret had the most devastating impact on the family? How did Charlotte's secret affect her life and her work?
Who are your favorite characters in the novel, and why? Who is your least favorite character?
What are your favorite scenes in the novel? What was the saddest scene? The happiest? The most uplifting? Did any scene make you laugh or cry?
Discuss Charlotte's relationship with Mr. Nicholls. When does he begin to care for Charlotte? How does he quietly go about pursuing her? How does the author maintain romantic tension between the two? Do you think Mr. Nicholls changes and grows over the course of the story?
In Chapter Five, Charlotte tells Ellen Nussey, "I am convinced I could never be a clergyman's wife." She lists the qualities she requires in a husband. How does Mr. Nicholls measure up to these expectations? What are his best and worst qualities? Why is Charlotte reluctant to accept Mr. Nicholls's proposal? What does Charlotte learn about herself—and her husband—after she marries? Do you think he turns out to be the ideal match for her?
What impact did Charlotte's experience at the Clergy Daughter's School have on her life and her work? How different was her experience at Roe Head School? In what ways did it change her life?
What was it about Monsieur Heger that endeared him to Charlotte, and made such a life-long impression on her? Why do you think he cut off all communication with her? Discuss the ways in which Charlotte's experience in Brussels changed her, and influenced every one of her novels.
Did hearing the story of Charlotte's life in the first person enhance the reading experience for you? What are the benefits of telling this story from the main character's perspective, rather than the third person? What are the limitations?
How does Charlotte's dream imagery serve the story?
Discuss the ways in which the Bronte's financial circumstances, unique childhood, education (or lack of it), and environment—living as the only educated family in a remote village, surrounded by the moors—affected their lives, their personalities, and their writing.
Why were Emily and Charlotte both so insistent on keeping their writing ambitions a secret? Why did they choose an androgynous pseudonym? Once published, how did the reality compare to the dream for each of them? How did Charlotte's life change when she was no longer able to "walk invisible"?
How did Charlotte feel about a woman's role in Victorian England, when domesticity and motherhood were considered to be a sufficient emotional fulfillment for females? Would you consider Charlotte a feminist in today's terms? Do you think Charlotte's views affected her feelings about marriage?
Strict laws at the time gave a husband ownership of his wife's body, her property and wages, and custody of their children. Discuss other conditions in Victorian England, with regard to women—i.e., health, sanitation, food, travel, career opportunities, courtship, sex, and conventions of feminine beauty. How did they differ from our lives today? In what ways are things still the same? Given the choice, would you wish to live in Charlotte's era?

Branwell was initially considered the brightest artistic hope in the Bronte family. What personal, educational and societal factors contributed to his demise? How did Charlotte's feelings for Monsieur Heger affect her opinion of the way Branwell handled his affair with Mrs. Robinson?
What examples of irony can you find in the story? For example, why is it ironic that Emily's novel, Wuthering Heights, was so poorly received during her lifetime? Discuss the fates of Mr. Nicholls, Patrick Bronte, Charlotte, and her siblings; in what ways are they all ultimately both tragic and ironic?
Has The Secret Diaries of Charlotte Bronte changed your perception of Charlotte or the other people in her life? Did you learn anything that surprised you?
Examine the many ways in which Charlotte dramatized her own life experiences in her novels. How many people, places and events from her real life can you identify in Jane Eyre? Shirley? Villette?
Compare and contrast Charlotte Bronte and her fictional creation, Jane Eyre, in terms of physical appearance, personality, romantic sensibilities and psychological desires. How successful is each woman in rising above the societal limitations placed upon her? Do they each ultimately remain true to themselves?
How successfully does the author capture Charlotte Bronte's voice? Did the novel inspire you to read or reread Charlotte's works, or the works of her sisters?