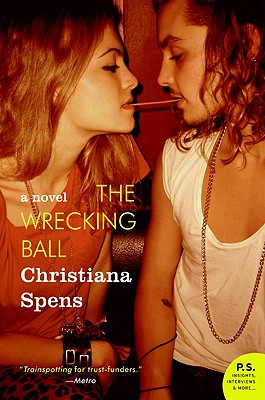 The Wrecking Ball
A Novel
Paperback

* Individual store prices may vary.
Description
Armed with trust funds and pedigrees but bent on rebellion, twenty-somethings Alice, Harry, Rose, and Hugo are teetering on the brink of self-destruction. With Manhattan and London as their playgrounds, they chase oblivion—and their next high—through a glittering blur of nightclubs, decadent parties, high fashion, and underground music scenes, hard-partying on the razor's edge with a never-ending cocktail of drugs and booze. Insomniacs and unstoppable, these four lost souls ride the extreme highs and devastating lows of a summer that quickly reaches a crescendo of music, heat, and hedonism. Wavering between moments of revelation and ruin, they illuminate a generation given everything—except an answer to the timeless question: Who am I?
From a remarkable new literary voice comes a startling, fresh, strikingly candid novel of addiction and excess.
Praise For The Wrecking Ball: A Novel…
"Trainspotting for trust funders"
— Metro London

"In razor-sharp prose that's soaked with authenticity…with characters whose increasingly flimsy grasp on reality is as gripping as it is disconcerting…The Wrecking Ball accurately shows where self-destruction can ultimately lead, effectively and entertainingly proving that the 'dream life' can often be anything but."
— Anna David, author of Party Girl

"[Christiana] writes beautifully about the taste for oblivion, the temptation of the abyss, the alluring mystery of nothingness. Truth is its soul and brevity is its body. I like young women. Their stories are shorter. Consider yourself seduced."
— Sebastian Horsley, author of Dandy in the Underworld

"Reminiscent of Bret Easton Ellis's Less Than Zero, this book has trust-fund babies downing vodka at breakfast, barely eating expensive lunches, and getting stoned at rock shows. [Spens is] a raconteur of the party scene."
— The Sunday Herald (London)
Harper Perennial, 9780061649349, 256pp.
Publication Date: October 7, 2008
About the Author
Christiana Spens is a student at the University of Cambridge. She has been writing art and fashion pieces for Studio International since she was fifteen years old, and continues to write for Rockfeedback. The Wrecking Ball is her first novel.