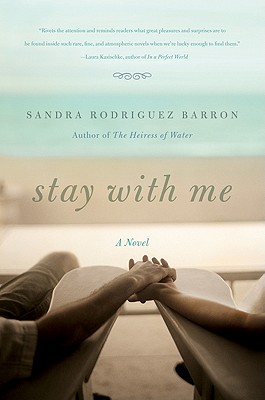 Stay with Me (Paperback)
Harper Perennial, 9780061650628, 384pp.
Publication Date: November 30, 2010
Description
"Stay With Me accomplishes all we might ask of a novel....It reminds readers what great pleasures and surprises are to be found inside such rare, fine, and atmospheric novels when we're lucky enough to find them."
--Laura Kasischke, author of In a Perfect World Stay With Me by Sandra Rodriguez Barron is a gripping and deftly written novel about the meaning of family and the bonds that create one's history. Provocative and character-rich, Stay With Me grippingly explores the mystery behind the pasts of five toddlers who were stranded on a boat and left drifting in the ocean, and the aftermath, many years later. Literary giant Isabel Allende has raved about this author's work, saying, "Rodriguez Barron's exuberant prose yields an immensely entertaining reading experience.
Praise For Stay with Me…
"Part mystery, part romance, this is an intriguing story that explores the meaning of family and the role of history in defining who we are."
-Booklist

"[A]n engaging examination of family ties and identity, laced with suspense, intrigue, and romance….Barron beautifully paces this compelling novel, bounding back and forth in time, slowly unveiling little revelations along the way."
-Boston Globe

"Stay With Me accomplishes all we might ask of a novel. ...And it reminds readers what great pleasures and surprises are to be found inside such rare, fine, and atmospheric novels when we're lucky enough to find them."
-Laura Kasischke, author of In a Perfect World

"Full of intrigue and romance, STAY WITH ME is a deeply moving paean to loyalty, compassion and family—biological or not. "
-BookPage.com
Advertisement