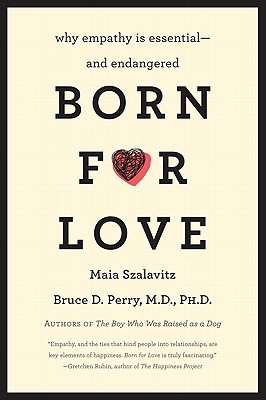 Born for Love
Why Empathy Is Essential--and Endangered
Paperback

* Individual store prices may vary.
Other Editions of This Title:
Digital Audiobook (9/28/2015)
Description
The groundbreaking exploration of the power of empathy by renowned child-psychiatrist Bruce D. Perry, co-author, with Oprah Winfrey, of What Happened to You?
Born for Love reveals how and why the brain learns to bond with others—and is a stirring call to protect our children from new threats to their capacity to love.

"Empathy, and the ties that bind people into relationships, are key elements of happiness. Born for Love is truly fascinating." — Gretchen Rubin,  author of The Happiness Project
From birth, when babies' fingers instinctively cling to those of adults, their bodies and brains seek an intimate connection, a bond made possible by empathy—the ability to love and to share the feelings of others.

In this provocative book, psychiatrist Bruce D. Perry and award-winning science journalist Maia Szalavitz interweave research and stories from Perry's practice with cutting-edge scientific studies and historical examples to explain how empathy develops, why it is essential for our development into healthy adults, and how to raise kids with empathy while navigating threats from technological change and other forces in the modern world.
Perry and Szalavitz show that compassion underlies the qualities that make society work—trust, altruism, collaboration, love, charity—and how difficulties related to empathy are key factors in social problems such as war, crime, racism, and mental illness. Even physical health, from infectious diseases to heart attacks, is deeply affected by our human connections to one another.
As Born for Love reveals, recent changes in technology, child-rearing practices, education, and lifestyles are starting to rob children of necessary human contact and deep relationships—the essential foundation for empathy and a caring, healthy society. Sounding an important warning bell, Born for Love offers practical ideas for combating the negative influences of modern life and fostering positive social change to benefit us all.
Praise For Born for Love: Why Empathy Is Essential--and Endangered…
"Born for Love places love where it belongs: at the heart of human experience. Beyond our use of tools, our complex languages, or our artistic triumphs, what Homo sapiens does best is love one another. Szalavitz and Perry show just how vital and humanizing our capacity to care really is through the use of illuminating case studies, cutting-edge research, and deft writing." — Christopher Ryan, Ph.D., author of Sex at Dawn: How We Mate, Why We Stray, and What it Means for Modern Relationships
"Empathy, and the ties that bind people into relationships, are key elements of happiness. Born for Love is truly fascinating." — Gretchen Rubin, #1 New York Times bestselling author of The Happiness Project
"Facebook. Daycare. Economic inequality. All these trends are endangering empathy. Building off of case studies from Perry's psychiatric practice, Perry and Szalavitz trace the antecedents and repercussions of (dis)connection, from mother-infant bonding through national financial meltdown. Born for Love explains science from cells to sociology and illustrates what can go wrong when we turn a blind eye toward others or engender blind spots in our children. But it offers fixes. Some are far off-systemic shake-ups-but others are just a handshake away." — Psychology Today
"A clear, expert, up-to-date presentation of what makes us human, happy, and durable." — Library Journal (starred review)
"Bruce Perry is both a world-class creative scientist and a compassionate therapist." — Mary Pipher, #1 New York Times bestselling author of Reviving Ophelia
"Once in awhile a book changes the way I experience the world. This time it's Born For Love, by Bruce D. Perry and Maia Szalavitz. Their book explores how children learn to love-or not. No work of fiction is as compelling." — Denver Post
"An accessible and important work of popular science." — BigThink.com
"Strikingly original and thought-provoking, Born for Love explores the crucially important role empathy plays in all of our lives. It should be required reading for every parent, partner, and friend." — Annie Murphy Paul, author of Origins: How the Nine Months Before Birth Shape the Rest of Our Lives
William Morrow Paperbacks, 9780061656798, 384pp.
Publication Date: April 5, 2011
About the Author
Bruce D. Perry, M.D., Ph.D., is the senior fellow of the ChildTrauma Academy (www.ChildTrauma.org), a not-for-profit organization based in Houston that is dedicated to improving the lives of high-risk children, and he is an adjunct professor of psychiatry at the Northwestern University School of Medicine in Chicago. He is the author, with Maia Szalavitz, of The Boy Who Was Raised as a Dog, a bestselling book based on his work with maltreated children.
Maia Szalavitz is the author of Help at Any Cost: How the Troubled-Teen Industry Cons Parents and Hurts Kids (Riverhead, 2006), which led to state investigations into the industry as well as federal legislation. She is a senior fellow at media watchdog STATS.org and has written for the New York Times, Elle, Time magazine online, and the Washington Post.