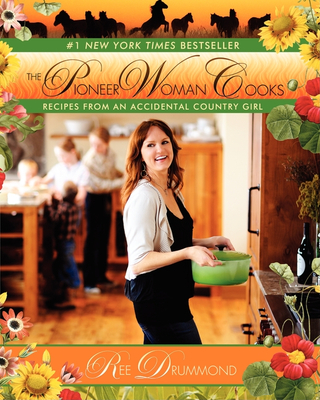 The Pioneer Woman Cooks
Recipes from an Accidental Country Girl
Hardcover

* Individual store prices may vary.
Description
#1 New York Times Bestseller
Paula Deen meets Erma Bombeck in The Pioneer Woman Cooks, Ree Drummond's spirited, homespun cookbook. Drummond colorfully traces her transition from city life to ranch wife through recipes, photos, and pithy commentary based on her popular, award-winning blog, Confessions of a Pioneer Woman, and whips up delicious, satisfying meals for cowboys and cowgirls alike made from simple, widely available ingredients. The Pioneer Woman Cooks—and with these "Recipes from an Accidental Country Girl," she pleases the palate and tickles the funny bone at the same time.
Praise For The Pioneer Woman Cooks: Recipes from an Accidental Country Girl…
#1 New York Times Bestseller — New York Times
#1 Denver Post Bestseller — Denver Post
#5 Wall Street Journal Bestseller — Wall Street Journal
#6 Publishers Weekly Bestseller — Publishers Weekly
#7 Washington Post Bestseller — Washington Post
#9 Mountains and Plains Independent Booksellers Association Bestseller — MPIBA
#29 USA Today Bestseller — USA Today
an Amazon Customer Favorite Cookbook — Amazon.com
"[Ree Drummond is] funny, enthusiastic and self-deprecating, making the book appeal to pavement-pounders and pioneer types alike [with] recipes like steak with whiskey cream sauce, leek and potato pizza and pico de gallo. As a portrait of a real American family kitchen, it works." — New York Times
"Drummond invites fans into her world with irresistible recipes and photos…. Here's a mom of four who can turn out a Perfect Pot Roast and make feasts for girlfriends that start with sangria and finish with crème brûlée. It's sweet and seductive: You'll want to plunge right in." — People
"Jokey and irresistible. Drummond's…appreciation for something as simple as well-made pico de gallo is infectious. Such attentiveness to basic cooking skills makes the book entertaining and useful." — New York Times Gift Guide
"Who needs Julia Child? I've got Pioneer Woman." — Baltimore Sun
"Drummond's writing style is closer to a good friend dishing out advice than an expert telling people want to do." — Denver Daily News
"[Ree Drummond] whips up mouthwatering meals with easy-to-find ingredients (she's miles away from restaurants and supermarkets) and shares what living in a not-so-little house on the prairie is really all about. " — People
William Morrow Cookbooks, 9780061658198, 256pp.
Publication Date: October 27, 2009
About the Author
Ree Drummond is the author of seven #1 New York Times bestselling cookbooks in the Pioneer Woman Cooks series, the New York Times bestsellers Frontier Follies and The Pioneer Woman: Black Heels to Tractor Wheels, and many bestselling children's books. Her award-winning website, The Pioneer Woman, was founded in 2006 and showcases her cooking, photography, and anecdotes about country life. Her top-rated cooking show, The Pioneer Woman, premiered on Food Network in 2011, and in the years to follow, Ree launched The Pioneer Woman magazine, a well-loved line of kitchen and home products, and a restaurant, store, and other businesses in her hometown of Pawhuska, Oklahoma. She lives on a working ranch with her family, horses, cows, and pups.
Book Videos