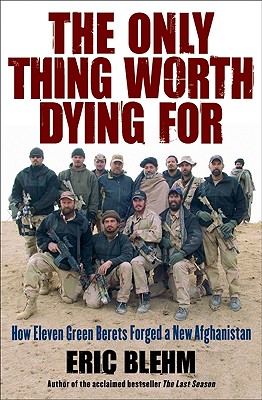 The Only Thing Worth Dying for: How Eleven Green Berets Forged a New Afghanistan (Hardcover)
How Eleven Green Berets Forged a New Afghanistan
HarperTorch, 9780061661228, 375pp.
Publication Date: January 19, 2010
Description
Eric Blehm, author of the award-winning The Last Season, is back with another true adventure story, The Only Thing Worth Dying For. Set in the immediate aftermath of 9/11, The Only Thing Worth Dying For chronicles the untold story of the team of Green Berets led by Captain Jason Amerine that conquered the Taliban and helped bring Hamid Karzai to power in Afghanistan. In the tradition of Black Hawk Down, The Only Thing Worth Dying For is, in the words of former Congressman Charlie Wilson (from Charlie Wilson's War), "the one book you must read if you have any hope of understanding what our fine American soldiers are up against in Afghanistan."
Praise For The Only Thing Worth Dying for: How Eleven Green Berets Forged a New Afghanistan…
"The Only Thing Worth Dying For is not only brilliant, it's the one book you must read if you have any hope of understanding what our fine American soldiers are up against in Afghanistan."
-Former Congressman Charlie Wilson

"A skillfully reported and masterfully written account of one of the most crucial moments of the War Against Terror. Blehm reminds us of the perils, the triumphs and the sacrifices made in the name of freedom."
-Bob Woodruff, ABC News correspondent

"Through careful reporting and crisp narrative pacing, Eric Blehm has given us a thrilling, forgotten drama from the opening chapter of the war in Afghanistan. The Only Thing Worth Dying For will become an enduring classic of this extraordinary theater, where so much hangs in the balance."
-Hampton Sides, bestselling author of Ghost Soldiers and Blood and Thunder

"Blehm provides powerful and unflinching insight into a real-life mission that ended in tragedy but left an indelible mark on history. From the comic moments to the bleakest hour, it's a testament to how a small team of well-trained men can shape a nation's destiny."
-Stephen Grey, award-winning author of Ghost Plane: The True Story of the CIA's Torture Program and Operation Snakebite: The Story of an Afghan Desert Siege

"Eric Blehm has written a literary masterpiece about modern war. The whole witches' brew is here: valor, honor, heroism, cowardice, incompetence, stupidity, triumph, blood, death and despair. That America has soldiers like these should fill every American heart with pride. Read this book!"
-Stephen Coonts, bestselling author of Flight of the Intruder and The Disciple

"No other book has gone to such depths in research, nor been so descriptive in recounting this critical mission during the earliest days after 9/11 when the US Army Special Forces successfully waged unconventional warfare in Afghanistan."
-Sergeant Major Billy Waugh, author of Hunting The Jackal and Isaac Camacho, An American Hero

"The greatest story of a small unit's battle through an untamed land since Lawrence of Arabia."
-Adam Makos, editor of Valor Magazine

"A captivating account of our heroic warriors-a remarkable U.S. Army Special Forces unit's hard-fought success against incredible odds. It reads with the thrill of fiction-but this is the damned deadly real deal."
-W.E.B. Griffin & William E. Butterworth IV, best-selling authors of The Traffickers and The Honor of Spies
Advertisement