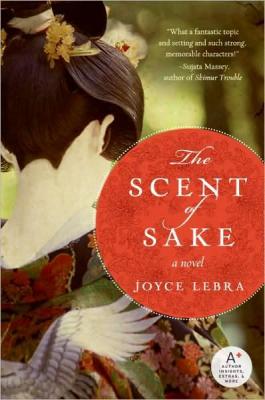 The Scent of Sake
Paperback

* Individual store prices may vary.
Other Editions of This Title:
Paperback, Large Print (6/1/2009)
Description
She was taught to submit, to obey . . . but she dreamed of an empire.
The sole heir to the House of Omura, a venerable family of Kobe sake brewers, nineteen-year-old Rie hears but cannot heed her mother's advice: that in nineteenth-century Japan, a woman must "kill the self" or her life will be too difficult to bear. In this strict, male-dominated society, women may not even enter the brewery—and repressive tradition demands that Rie turn over her family's business to the inept philanderer she's been forced to marry. She is even expected to raise her husband's children by another woman—a geisha—so that they can eventually run the Omura enterprise.
But Rie's pride will not allow her to relinquish what is rightfully hers. With courage, cunning, brilliance, and skill, she is ready to confront every threat that arises before her—from prejudice to treachery to shipwrecks to the insidious schemes of relentless rivals—in her bold determination to forge a magnificent dynasty...and to, impossibly, succeed.
An epic and breathtaking saga that spans generations as it sweeps through the heart of a century, Joyce Lebra's The Scent of Sake is a vivid and powerful entry into another world...and an unforgettable portrait of a woman who would not let that world defeat her.
William Morrow Paperbacks, 9780061662379, 384pp.
Publication Date: February 17, 2009
Were you surprised by how powerful sake brewers were in the eighteenth and nineteenth centuries?
Why was this house happy to have a daughter as an only child?
Was Jihei a typical mukoyoshi, adopted husband/househead?
What challenges did Rie face as a woman? What advantages did she have as house daughter?
Why was Rie so unhappy to have Yoshitaro adopted as househead and heir? Would you be?
Do you think arranged marriages worked at the time?
Why were people so surprised Rie wanted to adopt a mukoyoshi for Fumi?
Some Americans have asked, why didn't Rie have the nerve to sneak into the kura when no one was looking? What do you think?
What would have happened had Rie been discovered during her assignation with Saburo? What would have happened to Saburo?
What was your reaction when Rie demanded that Kinno divorce Nobu?