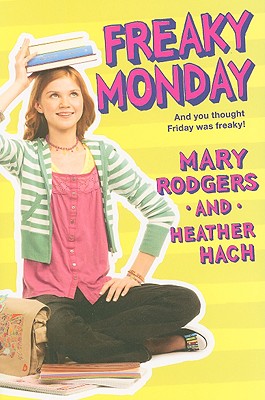 Freaky Monday (Hardcover)
HarperCollins, 9780061664786, 192pp.
Publication Date: May 5, 2009
Other Editions of This Title:
Paperback (2/23/2010)
Library Binding (5/1/2009)
* Individual store prices may vary.
Description
Hadley is pretty much the model student: straight As, perfect attendance, front row in class. So what if she's overstressed and overscheduled: She's got school covered. (Life—not so much.)
Ms. Pitt is the kind of teacher who wants you to call her by her first name and puts all the chairs in a circle and tells her students to feel their book reports.
Hadley wishes Ms. Pitt would stick to her lesson plan. Ms. Pitt wishes Hadley would lighten up.
So when Hadley and Ms. Pitt find themselves switched into each other's bodies, the first thing they want to do is switch right back. It takes a family crisis, a baffled principal, and a (double) first kiss to help them figure out that change can be pretty enlightening.
Even if it is a little freaky!
About the Author
Mary Rodgers was an accomplished author, screenwriter, and composer. She authored Freaky Friday, a book that has sold more than a million copies and has been made into two movies. Mary was the creator of two other novels for young readers, Summer Switch and A Billion for Boris, as well as the music for the musical Once Upon a Mattress. Mary Rodgers lived in New York City until her death in 2014.
Heather Hach (rhymes with Bach) wrote the screenplay for the most recent Freaky Friday movie and the book for Legally Blonde: The Musical. Heather recently appeared as a judge on MTV's The Search for Elle Woods. Heather Hach writes books and screenplays in West Hollywood, California, where she lives with her husband, an animator, and her daughter, a toddler.
or
Not Currently Available for Direct Purchase