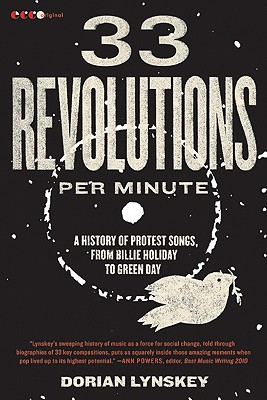 33 Revolutions Per Minute: A History of Protest Songs, from Billie Holiday to Green Day (Paperback)
A History of Protest Songs, from Billie Holiday to Green Day
Ecco Press, 9780061670152, 660pp.
Publication Date: April 5, 2011
Description
Dorian Lynskey is one of the most prominent music critics writing today. With 33 Revolutions Per Minute, he offers an engrossing, insightful, and wonderfully researched history of protest music in the twentieth century and beyond. From Billie Holiday and Woodie Guthrie to Bob Dylan and the Clash to Green Day and Rage Against the Machine, 33 Revolutions Per Minute is a moving and fascinating portrait of a century of popular music that tried to change the world.

Praise For 33 Revolutions Per Minute: A History of Protest Songs, from Billie Holiday to Green Day…
"This book is impressive in scope."
-New Yorker

"A longtime music critic, Lynskey presents up-close details to ballast the book's larger historical sweep."
-Los Angeles Times

"Lynskey has a strong command of the music and its makers."
-Wall Street Journal

"lovely writing…Let's praise the agile, many-tentacled writer Mr. Lynskey can often be, because I loved bits of this book; you can pluck out the many tasty things like seeds from a pomegranate."
-New York Times

"British music critic Dorian Lynskey offers a completely absorbing look at 33 songs, spanning seven decades and haling from five continents...Comprehensive and beautifully written."
-Booklist (starred review)

"[A] provocative, absorbing book"
-Cleveland Plain Dealer

"A must-read for militant-music lovers."
-The Root
Advertisement