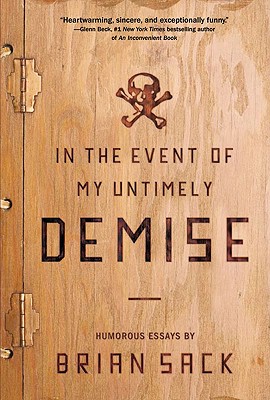 In the Event of My Untimely Demise (Paperback)
HarperOne, 9780061671722, 226pp.
Publication Date: April 28, 2009
Description
In the form of letters written to his son, Brian Sack gets right to the heart of what ultimately matters most. While some insights might seem obvious (high school is probably going to suck), others are refreshingly unconventional, and all are presented with a wit that is self-deprecating, sharp, and addictive.
Praise For In the Event of My Untimely Demise…
"Brian Sack's In The Event of my Untimely Demise is a very funny book--let's keep him alive so that he may write some more!"
-Chris Regan, Emmy Award Winning Writer, The Daily Show with Jon Stewart

"A strange and hilarious compendium of parenting wisdom for an age when no one knows anything."
-Neal Pollack, author of Alternadad

"Unlike his "Public Viewer" appearances on my television show, Brian Sack's new book is heartwarming, sincere and exceptionally funny."
-Glenn Beck, #1 New York Times bestselling author of An Inconvenient Book

"I like my life wisdom sardonic, salty and refreshingly dry, just the way Brian Sack serves it in his charming and insightful collection of essays."
-Alisa Kwitney, author of The Dominant Blonde and Flirting in Cars

"Part witty memoir, part common-sense guide and part social commentary, In the Event of My Untimely Demise is an owner's manual for the late-model human heart."
-David Giffels, author of All the Way Home

"Brian Sack's book In the Event of my Untimely Demise had me laughing, crying with laughter, and seriously considering a vasectomy, often in the same paragraph."
-Grant Stoddard, author of Working Stiff

"An addictive read. You might come for the laughs, but you stay for the undeniable honesty of it all. In the end, it reminds us all of why it's so great to be a parent - and that's worth a lot more than the price of this book."
-Fusion Magazine

"A book that covers almost everything that a human being in the modern world needs to know... It's the kind of advice that, if we're being honest, we all kinda wish our fathers had bothered to tell us."
-Vanity Fair
Advertisement