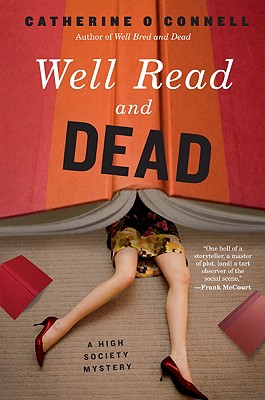 Well Read and Dead
A High Society Mystery (High Society Mystery Series #2)
Paperback

* Individual store prices may vary.
Description
The return of blue-blooded fashionista Pauline Cook, whose search for a missing friend leads her from an iconoclastic book group to the deepest and most unfashionable reaches of the Far East.
Back in Chicago after a disastrous European love affair, socialite Pauline Cook finds her finances nearly depleted, her co-op a shambles, and her best friend mysteriously missing—vanished along with Pauline's cat. Though Whitney Armstrong's husband offers a substantial reward for the return of his lost wife, Pauline can't help suspecting that his grief is merely an act. But it's a shocking suggestion by a member of Whitney's book club that really gets Pauline moving—halfway around the world, in fact, to Thailand . . . in spite of a psychic's warning of terrible danger.
In Asia, a morass of dark motives and deadly corporate intrigues await the intrepid globe-trotter. And all the high society connections in the world aren't going to ensure that Pauline makes it home alive. . . .
Praise For Well Read and Dead: A High Society Mystery (High Society Mystery Series #2)…
"Among the least expensive ways to while away a few days of the recession...a rich romp not only through Chicago's Gold Coast, where this fictional murder mystery unfolds, but also through the sometimes-cringe-inducing, sometimes hilarious "problems" of the old-money set." — Chicago Sun-Times
"Brimming with witty observations about the well-heeled and the machinations of greedy businessmen, this sophisticated romp takes the daring amateur sleuth all the way to Thailand and Vietnam." — Publishers Weekly
"Readers will find themselves warming to this improbable high-society sleuth who challenges our assumptions about what a mystery heroine should be like." — Booklist
"Spiked with suspense, romance and satirical jabs at high society, this Dominick Dunne-meets-Mary Higgins Clark adventure is a reader's treat, delicately wrapped with literary allusions." — Michigan Avenue Magazine
"O'Connell portrays the lives of the phenomenally wealthy with humor and a fondness for Pauline, who in a rare moment or two rises above her social status to attain a momentary flash of the heroic." — Library Journal
"Ms. O'Connell is...a hell of a storyteller, a master of plot, [and] a tart observer of the social scene." — Frank McCourt
"O'Connell writes with a stiletto, drawing blood with every description of the moneyed, once-moneyed, and would-be moneyed in her newest romp of high living and mayhem. O'Connell can be sharply comical and deadly serious; it's great fun to tag along with her and Pauline on their wild ride." — Sojourner
"A smart and urbane mystery set in Chicago's high society." — Today's Chicago Woman
William Morrow Paperbacks, 9780061673252, 320pp.
Publication Date: March 24, 2009
About the Author
Catherine O'Connell divides her time between Chicago and Aspen, and sits on the board of the Aspen Writers' Foundation. A graduate of the University of Colorado School of Journalism, she is also the author of Well Bred and Dead.