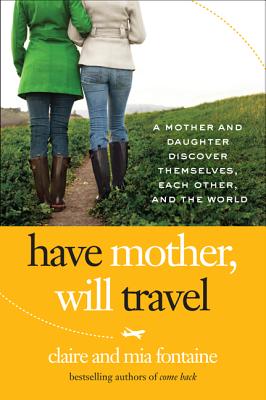 Have Mother, Will Travel (Hardcover)
A Mother and Daughter Discover Themselves, Each Other, and the World
William Morrow & Company, 9780061688393, 309pp.
Publication Date: July 17, 2012
Other Editions of This Title:
Digital Audiobook (7/16/2012)
Paperback (4/2/2013)
* Individual store prices may vary.
Description
Glamour magazine called Come Back, the first nonfiction collaboration by Claire and Mia Fontaine, the "best mother-daughter memoir," while the New York Times Book Review praised it as, "a testament to the power of the love."
The Fontaines are back with Have Mother, Will Travel, a beautiful, thoughtful, insightful, inspiring book that brilliantly captures the changing relationship between a mother and her adult daughter. Seen within the context of an unforgettable round-the-world adventure, the emotional milestones reached and the new understandings and appreciations achieved will warm the heart and nourish the soul--an extraordinary journey that should not be missed by armchair travelers and by mothers and daughters everywhere.
Praise For Have Mother, Will Travel: A Mother and Daughter Discover Themselves, Each Other, and the World…
"Have Mother, Will Travel is filled with what I would have given anything to experience and treasure with my own mother—the inner workings of our hearts and thoughts. I love these women!"
-Leah Komaiko, author of Am I Old Yet?

"A beautiful, funny, and oh-so-representative peek into how complicated—and wonderful—a mother-daughter relationship can be…. I could feel, as a mother and a daughter, every struggle and bump in the road…the love between a mother and daughter, while not always sunshine and daisies, will never end."
-Ree Drummond, author of The Pioneer Woman Cooks

"Finally, a book that celebrates the complexities of the mother-daughter bond with humor and depth. Both authors come to terms with who they are as women—together and apart—as they traverse twenty countries. Their relationship is an inspiration; you'll want to travel every step of the journey with them."
-Maureen Murdock, author of The Heroine's Journey and Unreliable Truth

"Nobody writes with as much honesty, bravery, and humor as Claire and Mia Fontaine when it comes to the dynamic of the complex, baffling, nurturing, infuriating, comforting labyrinth known as the mother/daughter relationship. No matter how far we travel or what we do, we will always be one."
-Tracey Jackson, author of Between a Rock and a Hot Place: Why Fifty Is Not the New Thirty

"An extremely insightful and inspiring look at how we relate, with our loved ones, with ourselves, and the world….Their courage in examining themselves, and their relationship, reminds us how important it is to stay mindful and proactive in all of our relationships, especially with our family."
-Janice Croze, founder, 5minutesformom.com

"As a mother of young daughters, I finished this book with such anticipation for the future, inspired by the relationship that Claire and Mia have formed through challenges and triumphs…. I found myself falling deeper in love with the soul–transforming journey of both loving a mother and raising a child."
-Kelle Hampton, author of Bloom: Finding Beauty in the Unexpected

"If you like Eat Pray Love then check out Have Mother, Will Travel...Written in alternating voices, the book humorously documents the power of travel to test and deepen relationships."
-National Geographic Traveler

"Frequently hilarious and often sobering … poignant and affecting."
-BookPage.com

"'Have Mother, Will Travel,' is a must-read for every woman (or man, for that matter). It's charming and enlightening, and will help any reader in their own understanding of this world and the relationships that it contains."
-Spencer Daily Reporter
or
Not Currently Available for Direct Purchase